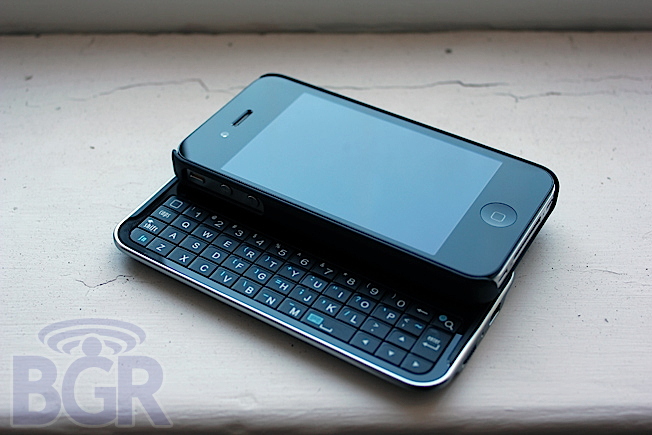 The latest product found at Boxwave is a Keyboard Buddy case for the iPhone 4. This provides your iPhone with a physical keyboard through a blue-tooth connection, something most users want while others may not be interested. These cases are available now so read more to learn how to get one.
The design and durability of the case, according to sources, fit the phone quite well. The protecting layer on the case comes as a rubber coating instead of hard plastic. This provides a great amount of grip while holding the phone in your hands.The only disadvantage that may bother you or may not is it's weight. When put with the phone it does tend to be a bit heavy. This is something the sources got used to after a few days though.
The keyboard seems to be impressive in every area but the layout. Some of you may be able to adjust, as most of us do get used to new things, but others may not like the setup. You can see how it's made in the image above. However sources say the keys seem sturdy, reliable and very responsive.
As with most products, here are pros and cons to getting this case and getting used to it. There are also many benefits to using it, according to your daily duties, wants and needs.
Boxwave, if you've never heard of them, has a 100% customer satisfaction policy that includes a 30-day window for returns. If you want to try one out for yourself, click here to do so. You can get this for $69.95 with free shipping in the U.S.
Source: BGR