So I was privileged to have the chance of a lifetime; a 2 week special time with the HTC Surround – AT&T Windows Phone 7 Device. In this review I will break the phone down in Pro's and Con's, rate both the hardware and software and then give my personal opinion about the device. I hope that during your reading you feel enlightened enough to at least try a Windows Phone 7 Device, especially the HTC Surround.
You will notice a number group beside each category, example: 4/5. This is me grading each category from a 1 to a 5, 5 is the best, so don't be confused.
Screen (4/5)
The Screen itself was stunning. It was sharp and clear even in the brightest sun light. I was always able to read the screen. Movie watching was like watching a movie on my 1080p 37 inch T.V. just in a 3.8 inch format. The reason I only gave it 4 out of 5 is because I would like to have seen a bigger screen say 4 or even 4.3. This device was "designed" to be a multimedia experience. Why not go big and bold?
Speakers (3/5)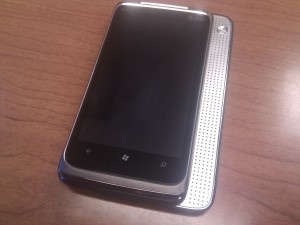 OK, so movies are EXCELLENT! You could not have done any better on the surround sound for movies and music. The Phone speaker (headset) is good quality too, crisp and clear. Now the whole reason I only gave it 3 out of 5: the speaker phone – it sucks! It is almost so bad that I am ashamed to say HTC made it.
My Touch Pro 2 had better speaker phone and it is a 2 year old device. Now I have been told by other HTC Surround users that if you slide open the speaker bar the speakerphone is better. Seriously? I have to slide my speaker bar open to have speaker phone? That is crap in my opinion. Not what I want to do in a meeting or car. Sorry, this to me is a failure on the hardware of the phone. HTC should have done better, much better in my opinion.
Microphone (2/5)
I had people constantly telling me the sound quality stunk. I tried both speakerphone and non-speakerphone. I had several people tell me that they had a hard time hearing me in my truck that there was lots of background noise. Upon inspection it didn't seem that the HTC Surround had dual mic's to cancel out noise like 98% of other phones. Again, all I can say is WHY HTC? Just WHY? Again, failure on HTC's part to give us features we need in this day in a phone.
Size (5/5)
OK given what it was it was nice, felt solid, firm and it was the perfect size for my hands. I enjoyed playing with the phone in all aspects. It was a blast and it just felt natural to have in my hands. I still think overall it needed a bigger screen but hey, I can't knock the size down since it wasn't designed for that screen size!
Battery (5/5)
14 hours of battery life. Need I say more?
Overall Thoughts (4.5/5)
I broke my rule. I had to give it 4.5. This phone was awesome to use hardware wise and it had its issues with the speaker and microphone but they were not huge issues. It does need improvement sure, but hey, overall it's a good device. I would own one if I was on AT&T and if it came to Sprint I would own it in a heartbeat.
Windows Phone 7 is the OS; with that said I am going to review the software much like the hardware above. I am going to break it into categories rate them and give you my opinion on the OS of the phone. Please remember this is the first version of Windows Phone 7 and it's brand new so there will be bugs.
Metro UI (4/5)
I like Metro UI. It is simple, fast, smooth and finger friendly. Coming from a Windows Mobile Device running 6.1 / 6.5, it was nice change. My Touch Pro 2 had issues with Sense and I like the idea of Microsoft controlling the UI for the phone. It did had issues with the fact that I can't have a background other than white or black. The lock screen was a nice touch. It was the only real thing you could customize. Coming from Windows Mobile where you can customize everything, I loved it. Microsoft has done a good job at a standard and I look forward to this being developed more. Keep up the good work Microsoft.
Calendars (5/5)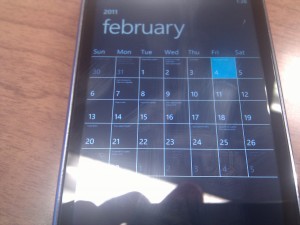 Speaking from a Corp. Exchange user that has Hotmail, Gmail and Outlook Calendars it is amazing to have all calendars in one spot! I loved this feature. No more fumbling around asking what calendar is what appointment on. I can now live life simply and enjoyable. This has to be one of the best features of Windows Phone 7. I can't think of one bad thing to say. GREAT JOB MICROSOFT!!!
Emails (4/5)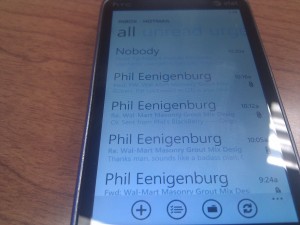 I like how the emails are smooth, snappy and very well presented. Much better in my opinion than Outlook/ActiveSync on Windows Mobile. My phone was syncing 4 accounts (Hotmail, GMAIL, Yahoo, Outlook) and they seemed fine. Only complaint I have is that it does not appear that I could make the choice to download pictures/email content automatically. This became a hassle as lots of emails have pictures embedded in them, or HTML style emails. I think this should be checked into Microsoft.
Bluetooth (2/5)
So I tested the Bluetooth with 3 different devices and 4 different cars. Bluetooth headsets worked amazing. The bluetooth connection to computers was a challenge for me, it did not always like the connection and would refuse items every once in a while. I also tested with my BlueAnt ST3 speakerphone/car kit and it worked, but with volume up and speaker phone all the way up it was still like a whisper to me. It seemed to also fluctuate in volume, like it was never "set" always changing louder, softer, louder, and softer. I also took it to a Lexus and Acura dealer and both those cars had issues connecting and once connected the audio quality was subpar in quality. Microsoft really needs to investigate this. I am assuming it is a driver issue since that has been reported on multiple phones not just the HTC Surround.
Zune (5/5)
Can you say mini Zune player? It was awesome. I have Zune on my computer and it was just like that, clear steady stream of music. I loved it! Even with the sound bar being out it was an awesome experience.
Internet (5/5)
This is nice! Finally an internet worth using on a mobile device. I swear I could not put it down. Keyboard was nice and easy to use. The screen was always easy to read, portioned right and overall amazing. I found myself in Wal-Mart using it to find idea's for different products; reviews and such for games. It's  just simply amazing!
Bing (4/5)
Bing was awesome on the Touch Pro 2 with turn by turn directions, instant search and voice searches. That's all there in Windows Phone 7 BUT the turn by turn directions. I think this needs to be added. Sure we have Bing Maps but yeah, we need those directions announced. I love the voice feature and the button to access Bing. That was the best thing ever thought of in my opinion.
Marketplace (Apps) (4/5)
With version 1.0 the  new market place has around 6,000 apps. Seems fair, even if quality of apps are lacking it was nice to have apps to test. There are alot of free ones as well. Only problem is that I would like to see an ability to search for just "apps" or just "games or "just music," not everything together. Other than that I like it. For where for the marketplace is now, I wouldn't say it has too many improvements to make, maybe a few, but ask me again in 6 months I might give you a different opinion.
Overall (4/5)
For version 1.0 of Windows Phone 7 we have a good quality product. Sure there are flaws, but let's be honest here. Who had a perfect device on the first release of Android? Nobody. We are at version 2.3/2.4 and 3.0 Honeycomb now and they still have flaws. Apple – HA, yeah let's just call that a work in progress. WebOS, Where is version 1.0 and 2.0 at now? That's what I thought.
So my point here is simple; the OS grows as it matures and we see features added, removed with time. We love it and hate it. This is a good start though right?. I would recommend Windows Phone 7 to someone, even a geeky person as myself. It really did do what they said, "In, out and back to life." Keep up the good work Microsoft because I liked it. I will miss Windows Mobile though, but hey times change and we adapt.
PPCGeeks, please below let me and the others know what you think of the HTC Surround now that it has been torn apart from top to bottom. I enjoyed this review. It was fun and atlas I was sad to have to send the HTC Surround back. Simply because i have to go back to using 4 different calendars and no ability to link (merge) them together in one place. The Facebook address book was cool. It was nice to have one central place for contacts that are always updated. Features not above can be discussed below, and who knows maybe I will get another chance to review Windows Phone 7, then I will ask you what you want to see in a review. So tell me what you thought below. Grip, rant, rave and praise it. Just tell me!  What do you think of Windows Phone 7?