Beginning today, T-Mobile has announced that they will be making the HD7 available for free with a two-year contract.This is a Web-only offer — now thru Thurs, 6/9/2011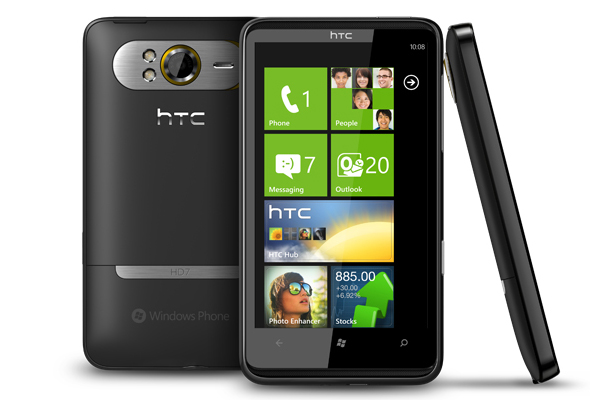 The HTC HD7 is a Windows Phone 7 handset designed to bring what you care about, to one central place. The most noticeable feature about this device is the large 4.3" display screen. The capacitive touchscreen display, which is the largest screen on a Windows Phone 7 device, is great for viewing movies, pictures, TV or videos on the go. The HD7 also comes equipped with a kickstand for easy, hands-free viewing.
The HTC HD7 runs on a 1GHz Snapdragon Processor, which enables robust multimedia and gaming experiences. You will be able to watch movies through the Netflix app, game on the go with Xbox Live or tune into T-Mobile TV with pretty good speeds. Other ways of staying connected is with the People Hub, a Windows Phone feature that lets you easily stay in touch with friends and family. The HD7 is all about bringing together what you care about most. With a customizable start screen, you can pin people, apps, playlists, and other favorites to the main page so they are always at your fingertips.
Some other well known features for the HTC HD7 include a 5MP camera with dual LED flash and automatic zoom for taking sharper pictures, Micorosoft Office Mobile for taking your work with you on the go, video capture/playback for capturing those special moments and GPS, Bluetooth and WiFi capabilities.
The HD7 is pretty much a redesigned HD2 with a Windows Operating System, instead of Android. It has that same 4.3-inch blueprint that HTC has been focused on with the HD2 and EVO 4G.
The first question you may want to ask yourself is whether or not you want to be aboard the WP7 gravy train.
Is the HD7 still current enough to make this a tempting deal?
Will the upcoming Mango update be enough of a refresh to make this device stay relevant for a while longer?
HTC HD7 (T-Mobile)
Known Specs:
• Windows Phone 7 OS
• Large 4.3″ Capacitive Touch display
• 5MP Camera with Dual LED Flash
• 1GHz Snapdragon Processor
• 720p HD Video Capture
• Kickstand for ultimate viewing experience
• Netflix Movie App
• Xbox LIVE
• Microsoft Office Mobile
• View/edit Word, Excel, PowerPoint
• GPS, Bluetooth, Wifi
• 3.5 mm Headset and MicroUSB Data/charging port