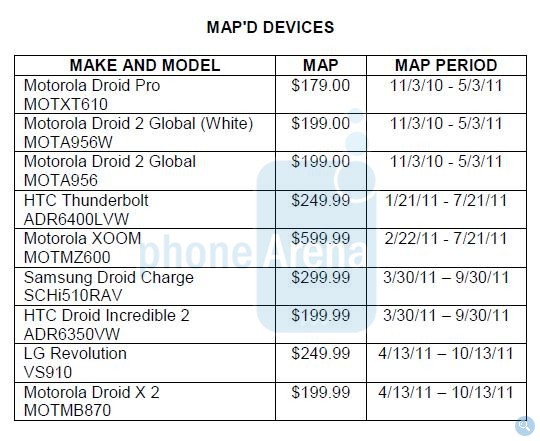 UPDATE:
The Samsung Droid Charge, yes that's the official name of the "un-named Samsung 4G smartphone" everyone was curious about since first seeing it at CES. This device is expected to carry a minimum advertised price of $299.99.
The HTC Droid Incredible 2 (ADR6350) is a going to be a world edition with a front facing camera . This device is expected to be priced at $199.99.
The LG Revolution (VS910) is definitely a 4G LTE smartphone and is said to be priced at $249.99.
Finally, the Motorola DROID X 2 (MB870) will be priced at $199.99 and yes it is taking the place of the DROID X on Verizon's lineup currently.
END OF UPDATE:
Looking at the image above you can tell that Verizon Wireless has several 4G devices being released starting today. Their 4G Novatel USB 551L modem and the Samsung 4G SCH-LC11 Mobile Hotspot are both now available for only $99.99 online with a new two year contract. But wait, there are many more devices other than internet modems coming your way.
If you aren't interested in the Thunderbolt which is the only 4G LTE smartphone Verizon currently offers, just be patient. They will have more rolling out soon as you can see by the dates in the image. Keep in mind though, the dates are subject to change and this is only tipped information from the source. Nothing is official unless you see it come from Verizon Wireless themselves. For now we can enjoy what's expected though right?
Basically what the leak says is this: Verizon Wireless will release an Android powered, 4G Casio Commando and the 4G Samsung Droid Charge on April 7th, 2011. The following week they are rumored to launch the Sony Xperia PLAY and the Windows Phone 7 HTC Trophy. Continuing on to April 28th, the rumors suggest the HTC DROID Incredible 2 may also be available. In May they say we can expect several more 4G phones, including the LG Revolution, Motorola BIONIC, Motorola DROID X2, and Samsung Galaxy 2 (presumably the Galaxy S 2).
Although these aren't Verizon documents in the image we do see some of the dates are true, hence the mobile hotspot and USB device that are available today as the image suggests. With that being said, what do you think about the upcoming devices? We wrote about a few of them here and would love to have your feedback once again now that the time is closer. Let us know your thoughts.
Source: Phandroid & PhoneArena