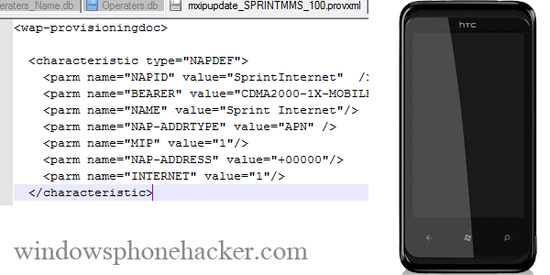 YAY! Sprint is getting closer to a Windows Phone 7 Device. Our friends over at WPCentral have posted some Valentines Day loving for Sprint users. Yes I did say Valentines day – I don't know if anyone caught it or not but I am now so enjoy the little late Valentine's love too. They found through 911HTC the finalized Sprint Rom for the HTC 7 Pro. This should mean we are getting close to a release day.
The website 911HTC, a sort of well known and more underground site, has posted what appears to be the Sprint ROM for the upcoming HTC 7 Pro. The site generally has a very good track record for these releases so we're betting on legit here. I might add that it is not uncommon to find ROMs of unreleased devices making their way onto the 'nets due to HTC's FTP servers, which host the ROM files. (something for which they are trying to fix).
The ROMS name is: [WP7] RUU_Gold_C_Sprint_WWE1.25.651.01_1.51.00_RELEASE.exe. What is really significant is the "RELEASE" part which usually implies a finalized build.
There is no confirmation of release dates here Sprint users, but this is a sure thing that it is coming, and in fact can help us detect the name of the Device.. the Gold_C is commonly the device code name for the carrier. So let the rumors fly the device has a ROM finalized. PPCGeekers please tell me what you think about this device, is this one you would want to have in your pocket? Are you going to wait to see what Nokia and Microsoft make out of their team venture? Tell us below in the comment section!
Source: WPCentral.com