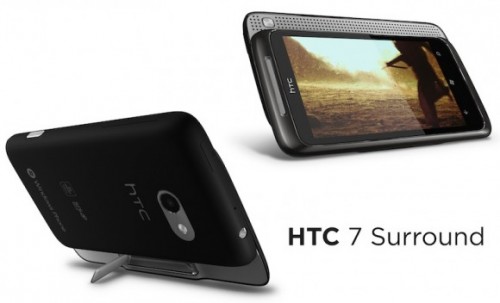 If you hang around our forums enough, you've probably seen me around. I'm part of our administrative staff here at PPCGeeks and manage our software and servers. I've been a 'Geeker for almost 3 years now. To give you guys a little background, my first smartphone was the Sprint Treo 700wx. From there, I went on to the Vogue aka Sprint Touch. Then I moved over to At&t and got the Fuze aka Touch Pro, then the Google Nexus One, the Samsung Captivate, and now the HTC Surround. I've also used the Sprint Touch Pro 2, HTC Diamond, HTC Evo 4G and Blackberry Tour. You could say I have a pretty well-balanced experience of Windows Mobile and Android. I've also used an iPod Touch, but not extensively, and I've never used an iPhone. I have flashed ROMs on every phone I've had (except the Surround of course), but I've never cooked any.
When it comes to Windows Phone 7, there's some highly mixed opinions here on PPCGeeks. Some people have thoughts about it without even using it. About a month ago, we posted Noir's thoughts on WP7. Now its time to share my thoughts.
Live Tiles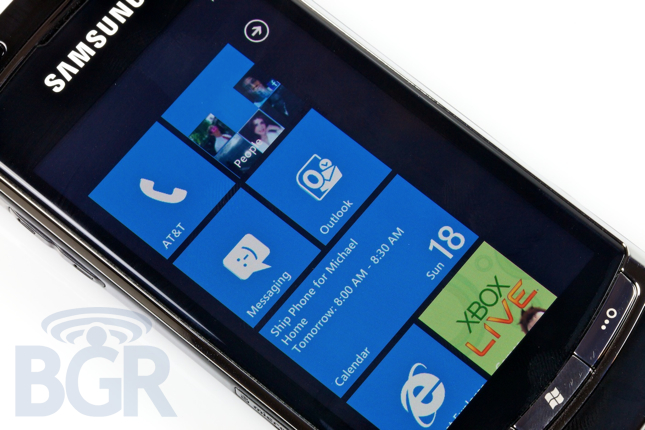 You either love them or hate them. The idea behind them is that they're supposed to be similar to Widgets in Android. You can "pin" shorts to apps on your home screen, and you can even pin contacts. I'm sure the usage for these will grow as the OS matures, but right now, there's not many apps that take advantage of it. If you have a contact linked with a Facebook contact, the tile will show their picture, then show their name, then their latest status update. I use Weatherbug on my phone, which gives you a Live Tile with push notifications for severe weather and it displays the temperature and current weather conditions. The Calendar tile will show a short agenda view for the day. The People tile shows random pictures of your contacts/Facebook friends. The Messaging and Email/Outlook one will show you an unread count. The phone tile will show you a missed call count. Other than those, I haven't found much use for them.
Similar to Android though, you can pin any app, giving you quick access to it, so in my opinion, the functionality is like Android. The biggest difference is screen real estate though. With Android, you could easily have 16 shortcuts on one home screen and can have a number of different screens. The shortcuts in WP7 are fairly large, with only 2 per row, which can make for a lot of scrolling if you have a lot of them.
Overall, I still like the tiles and I think there's potential if app developers start making use of it.
App List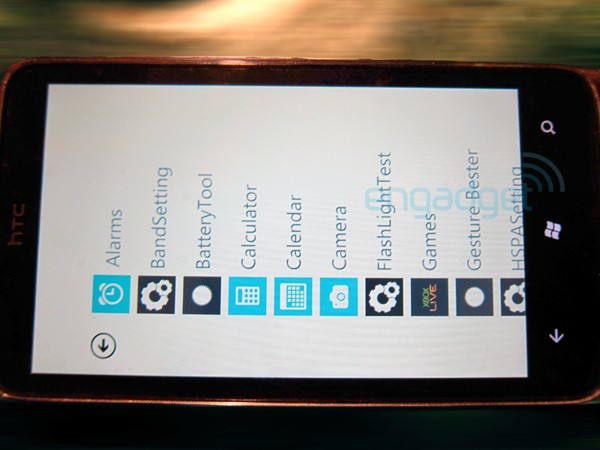 Everyone has to launch apps on their smartphone, so I might as well mention the app list or launcher. My biggest complaint about this is that there's no customization to it. Every app has an icon and the name next to it. There's only one app per row. Since there's not many "must have" apps in the Market yet (we'll get into that later), its not a big deal yet either. As you install more apps though, there's going to be more scrolling to get down to your favorite app. You can see about 10 apps on the screen without scrolling. They're in alphabetical order, and I haven't seen a way to change that. I would consider sorting my by most used. With Android and iOS, you can get quite a few apps to show on each screen, making it faster to scroll through.
All of your games are grouped into the Games XBox Live link. You can have this as a tile on your home screen or access it through the app list. Once you're in the hub, you'll see all of the XBox Live games you have installed listed first, then a section for Other Games. This keeps them separated out of your regular apps list.
It would be nice to be able to set categories to your list, where you could list all apps, then scroll right/left to get to different categories (like Games, Tools, Web, etc). Just a thought.
Keyboard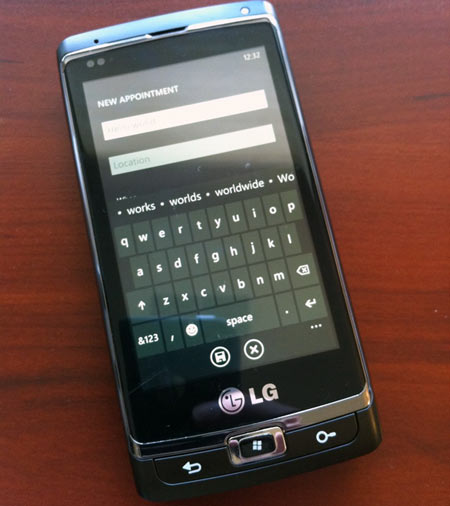 Since we all type on our smartphones, I thought it would be good to mention the keyboard. As of now, there's now 3rd party keyboard options out there, so you're stuck with the default one, but that's not really a bad thing. The keyboard and word prediction has been good for me. I can type just as fast as I could in Android and better than I could in WM. Sometimes I'll push in an area that closes the keyboard, so I'll have to click in my text box to open it back up, but overall I've been pleased with the keyboard. It works good in both landscape and portrait, even for someone who's 6'5″ with big hands.
Zune Integration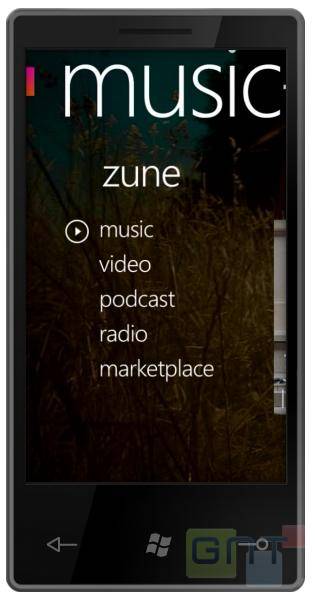 This is one feature I wasn't sure about. I've never used a Zune MP3 player and one of my biggest complaints about the iPod/iPhone is that you had to use iTunes to sync, and I never cared much for the iTunes software. For syncing, I still don't like the fact that you have to use the Zune desktop software. I would much rather connect my phone as a mass storage device and just drag-and-drop my files onto it. The Zune software isn't that bad though, and I guess neither is iTunes. They both get the job done. Zune has some fancier graphics than iTunes. Since I never really used any music organizer app before, I had to go through and clean up A LOT of my ID3 tags in my MP3 files.
When it comes to the Zune software on the phone, its BLOWS AWAY the old Windows Media Player on WM. I actually like it a lot. Its a toss up between that and the music player app in Android. They both function in similar fashions and offer some of the same features for music already on your phone. You can play music and videos that you have synced all through the same app. You can also sync podcasts from Zune to your phone. If you have a Zune Pass, you can also stream any song from the Zune Market and purchase it right from your phone. I like this streaming feature and have used it a couple times. You can sign up for a free trial Zune Pass too.
Office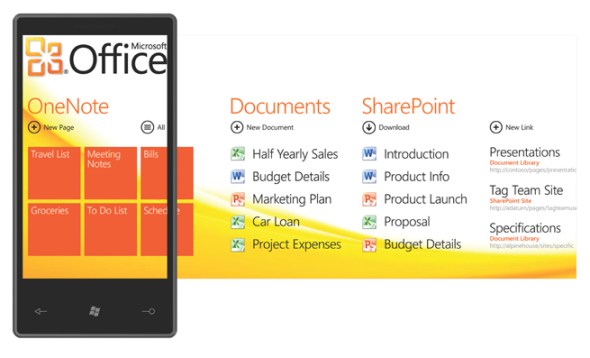 This is one thing I'm disappointed in. I understand they're marketing this phone to regular consumers more than business users, but they still need to add some more basic functionality to this for me to use it. Right now, there's no way to sync documents through Zune to get them on your phone (I believe you can sync One Note documents though). So the only way to get them on the phone is to email them to yourself. With all their focus on the "cloud", they also could have integrated it with SkyDrive too. I would have loved the ability to edit a document I have on SkyDrive on the fly and just save it. The software itself isn't that bad and can get the job done, its just a pain to get documents to and from your phone.
Pictures Hub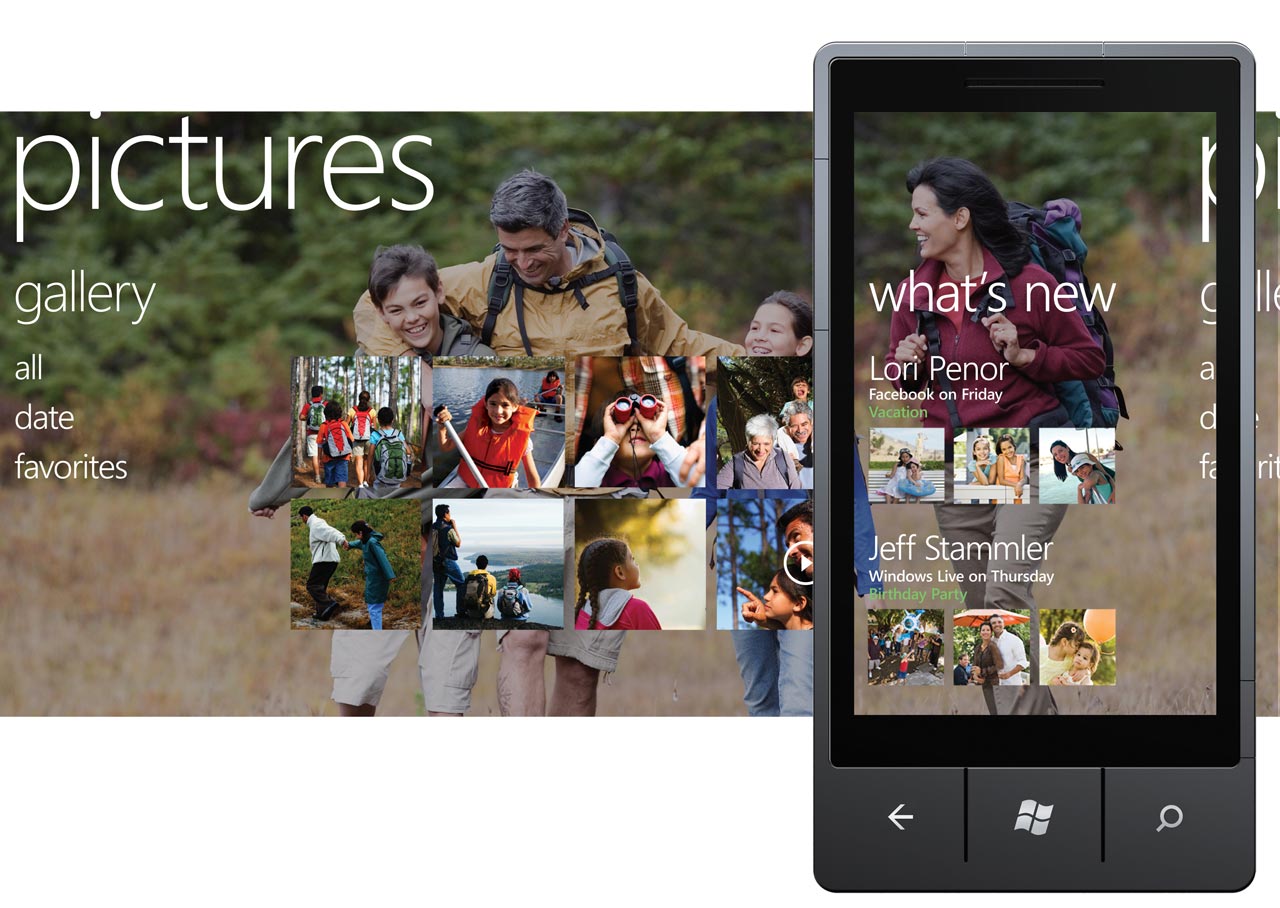 The Pictures Hub is pretty good, its fast loading and gives you some sorting options. There's no way to hide pictures that you sync with your device though, so that could be a problem for a few people out there. If you have it synced with Facebook, the What's New tab will pull over recent pictures uploaded by your Facebook friends.
People Hub

You might spend a lot of time in this area, especially if you use your phone as a phone. Unfortunately, this area could use some more features too. There's no way of creating a favorite contact list, so everyone is thrown in together. You can search or scroll, that's about it. There's a Recent tab, which will show the pictures of your recent contacts (whether it was a phone call, text, etc). If you have it synced with Facebook, it'll pull over their profile pictures and some other information. Under What's New, it'll pull down your Recent News feed from Facebook, showing status updates. You can also update your status from here. They did a good job with Facebook integration for those that use it, and there's almost no need for a separate Facebook app.
Market & Games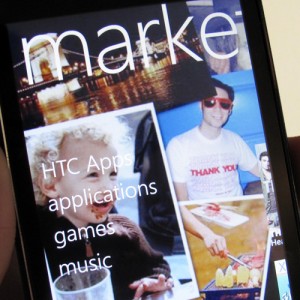 The Market hub could also use some improvements. Its nicely organized into categories and giving you the option to sort by Featured, Top, Free, etc. Unfortunately there's no way to search. How could you have a Market and not be able to search?!? The other day I was looking for a specific app, and I couldn't remember where I saw it. I could have found it in seconds if I could have searched for it, but instead it took me over 5 minutes to find it again.
EDIT: Thanks to the comments below, you CAN search the Market. While in the Market, click on the Search button (magnifying glass). It also searches music and artists, but it will list applications too.
A lot of apps seem to be rated pretty low, but there are a few good ones out there. I think the last number I saw was about 3,000 apps. It has a long way to go to catch up to Android and iOS, but its only been out for a few months. There are quite a few apps I miss from Android, but I'm sure they'll show up in WP7 eventually.
Games are top notch though. I'm sure there's some low quality ones out there too, but so far I would have to say that the gaming experience is better than Android and possibly better than iOS. I don't have a XBox, but they did a great job integrated all of its services.
The Netflix app offers both queue management and streaming of movies over WiFi and works pretty well. There's also a SlingPlayer app, which I haven't tried yet. For streaming music, there's a Last.FM app and a Slacker one (although no station caching yet), but not a Pandora app.
Overall
So, after all this, what are my final thoughts? I would say that its a good OS for version 1.0. I enjoy using it, but I'm big on Facebook and social networking and more of a general consumer than a business user. You do have to give it 1-2 weeks to grow on you though. If you just use it in the store or for a day, you'll probably have negative opinions of it. Like their commercials show, its designed to get you in and out, and it does that pretty well.
I'm hoping the update in Q1 2011 will be a big one. We've already heard it'll feature copy/paste, but everything else has just been rumors to this point. Hopefully they'll add smart dialing too. App development seems to be going pretty good so far, but there are some apps that I'm waiting on. I would love to have an offline GPS solution like TomTom, iGo, Navigon, etc. It would be great if they offered real turn-by-turn directions in Bing Maps like Google Navigation too. Since I manage a few Linux servers, I could also use a SSH client like ConnectBot on Android.
For their target market, I think Microsoft is off to a great start. For business and production use, it has quite a ways to go. WM and even Android offer more productivity than WP7 at this point int he game.
The OS is very fast and fluid with great graphics and effects. Some games can take a little while to load, but the video quality of them is good.
If there's anything else you would like me to write about, just post it in the comments and I'll add it to this article. I'm sure there's some things I missed that you guys might be interested in.
For those of you that have used WP7, do you agree or disagree with me on any of the points I mentioned?