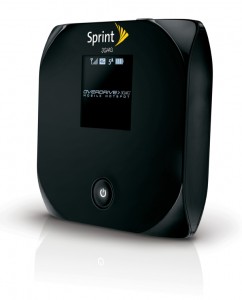 Thanks to our friends at Sprint, over the course of the past week I have had the privilege to test and evaluate Sprint's Overdrive 3G/4G mobile hotspot, and I must say this product is a must have for any road warrior. The device itself is similar to the MiFi and is capable of providing WiFi at both 3G and 4G (4G Network available in select cities) speeds to multiple devices with a single mobile broadband account.
"Accelerate at high speed with the first dual-mode shareable device of its kind-available only from Sprint. Now you can extend your 3G and 4G (4G Network available in select cities) experience beyond your laptop to any Wi-Fi-enabled device such as cameras, music players and portable game consoles. And because it supports up to five Wi-Fi-enabled devices, you can share your high-speed connection with friends, family, co-workers and customers. 16 GB of shared storage and no software or activation to fuss with, the Overdrive is a must have for work or play, home or away."
Highlights
3G Sprint Mobile Broadband Network and Sprint 4G Network-capable hotspot
Unique LCD screen displays signal strength, battery level and network connection type
Key Features
4G speeds that are up to 10x faster than 3G*
Dual-mode 3G/4G device
Mobile hotspot
GPS Navigation enabled
Web browsing capable
Memory card slot
Improves in-building wireless signal
Supports multiple simultaneous users
The Overdrive, which is made by Sierra Wireless, measures in at 3″x3″ and is about half an inch wide and weighs in at a hefty 4.5 ounces. The device itself has a single button used for turning it on and off. All the controlling of the device is done via http://overdrive/, which I thought was a very nice feature not having to install any additional software. Other external features are a mute switch, a micro USB port, and a microSD slot. Inside the device, there is a removable battery and a hard reset button as well. The Overdrive also has an LCD screen that is only visible when the display is active. The 1.4-inch LCD shows how well your coverage is, if you are on 3G or 4G, the name of your signal, your password, the amount of data you have transferred, and other vital information.
Using the device was quite simple, as I mentioned above, you do not have to install any third party software to get the device up and running. To activate the device you simply connect it to your computer, turn it on, and find the WiFi signal the way you normally would. The overdrive will display a security password on its LCD for you to enter once you have established the connection. Once you have the device set up to your liking you can connect to the internet or go back to the setup page (located at 192.168.0.1). This will also act as a handy status page that tells you about signal strength, alerts, and so forth.
Once I had the device set up to my laptop it was time to put it to the test. I strapped it into my truck and off we went for some true speed testing. I am fortunate that San Antonio is a 4G coverage area so I was able to test both 3G and 4G speeds and compare them to what Sprint advertises in my area. On my best day testing 4G speeds, I was able to get 4.2 mb/s down and .96 mb/s up, as for the 3G speeds I averaged around 445KBps down and 93KBps up.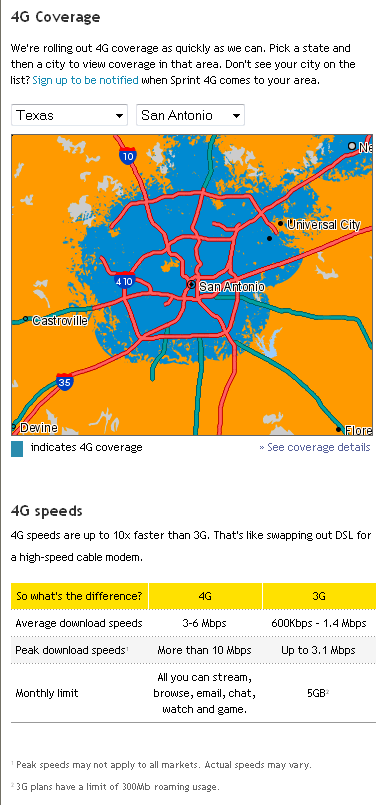 Overall, I was satisfied with the device. My only complaint is the battery life. With only three hours of continuous use available (which is what's advertised) you will need to remember to take a charger with you if you plan on using this device out-and-about.
Bottom Line: With an impressive design and good performance this device is a must have for any road warrior out there.
The Sprint Overdrive is available for $49.99 after instant savings and web special, also requires a new line or eligible upgrade with a 2-yr contract.