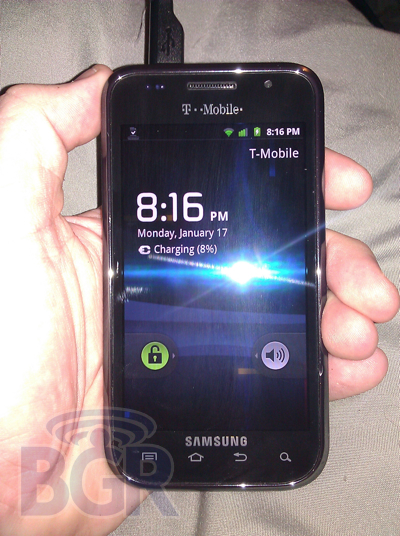 Our Geeks have talked about this device and come to find out, it's absolutely what you expected and more! The Samsung Vibrant 4G has been confirmed by one of  BoyGeniusReport's tipsters with details and a photo. Looks like TMobile is going to have another popular device available soon but no dates were confirmed.
The image above shows you some of what is in store. BGR mentions how the phone above is not skinned with Samsung's TouchWiz UI but Samsung is supposed to be working on an Android 2.3 compatible version, bollocks. He confirms this is definitely Android 2.3 while the first rumors you heard were that it was Android 2.2. Also, notice the front facing camera, doesn't that excite you?
Features of the Samsung Vibrant 4G:
A 21Mbps HSPA+ radio
TMobile self-proclaimed 4G network
4-inch Super AMOLED display
Android 2.3
Front Facing Camera
Source: BGR
© 2011, GirlGoneGeek. All rights reserved.