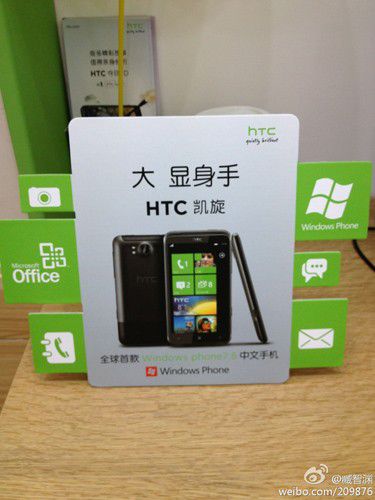 Here in the states we've been enjoying Windows Phone 7 for about a year and a half now.  When doing phone comparisons it is very common to refer to the "Big 3" mobile operating systems as the only ones who really matter, discounting BlackBerry OS, Symbian, and other seemingly anachronistic and obsolete systems.  The war for mobile dominance seems to be between Android, iOS, and WP7.
In China, however, this has not been the case.  One of the biggest world markets has not had any WP7 devices as of yet, and HTC is looking to rectify that when they drop the Kaixuan (meaning "triumphant return") on mainland China later this month.  HTC is taking pre-orders for the phone on it's online store for what comes out to $698 in USD.
The Kaixuan comes loaded with similar specs as the Titan, loaded with a 1.5GHz processor, 4.7″ screen, and 8MP rear camera.  It is powered by Windows Phone 7.5 with more localized versions of apps made specifically for Chinese consumers.
MS is trying to get their foot in the door in China, a market share of 56% Android in 2011 and Apple obviously being another key player.  The entrance of WP7 into China may boost the still new OS into better sales and more world-wide acceptance as a major player in the mobile wars.