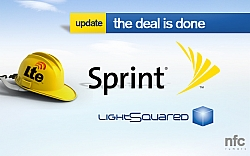 The end of WiMAX, the first 4G technology in America launched by Sprint and Clearwire in 2008, looks to be two years away.
At the "Sprint Network Vision Strategy Update" in New York, Sprint executives announced the aggressive rollout of a 4G LTE network to the end of 2013, the fastest 4G standard available in the U.S. today offered by both AT&T and Verizon.
Sprint will "continue selling WiMAX devices throughout 2012," said Steve Elfman, president of network operations and wholesale, leaving many to conclude that the WiMAX product roadmap would not go any further.
For an idea of how Sprint's support for LTE will trump WiMAX, Sprint said that by the by end of 2012 it will cover 120 million people and 250 million by the end of 2013.
The announcement adds to a big week for Sprint. The company became the latest carrier to offer the iPhone, joining larger rivals AT&T and Verizon Wireless, when Apple unveiled its iPhone 4S on Tuesday. Elfman said he believes the network will be able to handle the increased traffic that comes with the iPhone.
Sprint plans to to launch 15 dual-mode 4G LTE/CDMA smartphone and tablets by mid 2012.