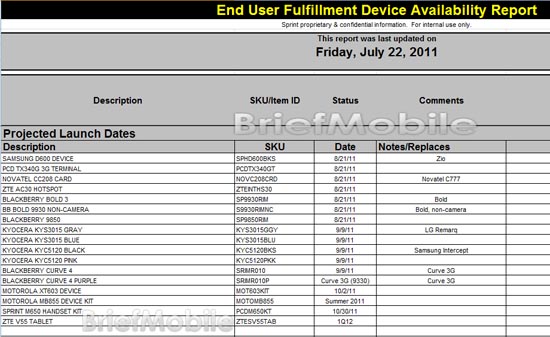 WOOONELLY! Looks like the Cell Phone Gods have blessed Sprint customers! This document says it was last updated on July 22nd, so if that is true then this should give all you Sprint (and not Sprint) customers something to look forward too! It is always changing so please take this with a grain of salt but it looks to be a lot of phones! We are going to list them all out for you in a lovely bullet list…. Why? Because I want to and I like to break it all down for you!
Samsung D600: Also known as the Conquer 4G, it's currently slated to arrive August 21st.
BlackBerry Bold 3: Also known as the Bold 9900/9930.
Kyocera KYC5120: No word yet on exactly what this handset may be, but the fact that it's due to replace the aging Samsung Intercept suggests that the 5120 is an Android phone of some kind. May be due on September 9th, which is a couple of days earlier than the previously-leaked September 11th launch. It's worth mentioning that September 11th is a Sunday, which is the day of the week that Sprint normally launches phones on
BlackBerry Curve 4: We've known this handset as the Curve 9350 and Apollo in the past. Also reportedly due to hit Sprint on September 9th.
Motorola XT603: Mysterious device that may hit Sprint on October 2nd
Motorola MB855: Also goes by the name Photon 4G, coming July 31st.
Sprint M650: Said to be the Huawei M650, another smartphone that we know little about as of now. Reportedly coming on October 30th.
ZTE V55 tablet: Sounds like a tablet, no? Not much is known about the device, but it could be launching in the first quarter of next year.
But WAIT! That's not all for the next Quarter we get word that Sprint is going ot be launching their NEW Direct Connect push to talk network! This is to replace the old and dieing iDEN network set to be killed off in 2013!  Their Direct Connect is Sprints vision to grow PPT to 2.7 Million miles up from the 908,370 square miles iDEN covers now. The first two handsets, the Kyocera DuraMax and DuraCore, will feature a rugged construction and will be out later this year along with a Motorola-made smartphone. Sprints Official News Brief is below – enjoy the reading!
So with all this great Sprint love how does this make you feel??  Yea well for me I feel good knowing the Now Network is stepping up and going to release an onslaught of devices, even if it is Blackberrys, and Android (now WP7 love)… But you know they start somewhere and finish with the best plans, and now phones! Tell me what you think PPCG Sprint Lovers!
Source: Phonedog
Sprint Prepares for 4Q Launch of Sprint Direct Connect with Feature-Rich, CDMA Handsets
First phones come packed with broadband capabilities and next-generation functionality; New phones will operate on push-to-talk footprint that's triple the size of Sprint's current one
OVERLAND PARK, Kan. (BUSINESS WIRE), July 25, 2011 – Sprint (NYSE: S) today announced the initial phones it plans to deploy in the fourth quarter when the company launches its next-generation, push-to-talk service powered by Sprint's broadband CDMA network. The new service – Sprint® Direct Connect – will deliver higher bandwidth capacity to keep up with customers' data demands and is expected to extend the company's push-to-talk coverage to almost triple the square miles of the company's current push-to-talk offering.
The Sprint Direct Connect phones to be introduced this fall will be the Kyocera DuraCore and the Kyocera DuraMax. As previously announced, a third handset — a Motorola smartphone — will be described closer to the launch of Sprint Direct Connect. The devices will feature most of the capabilities available on current Sprint push-to-talk phones plus next-generation, push-to-talk applications and functionality. Specific availability dates and pricing for each device will be released later.
"Sprint is thrilled to launch Sprint Direct Connect with a strong starting lineup of phones," said Fared Adib, Sprint vice president of product development. "These devices represent the new gold standard in push-to-talk technology."
Devices in 2011
Kyocera DuraMax brings customers advanced technology wrapped in a rugged exterior with a clamshell form factor. It offers military-grade durability, including water resistance when submerged up to one meter for up to 30 minutes. DuraMax comes with an integrated 3.2-megapixel camera and camcorder. The 32GB expandable microSD memory card slot provides the storage capacity required to manage large files on-the-go. Additional key features include:
* 2.0-inch QVGA TFT main display
* Military standard 810G specifications for dust, shock, vibration, temperature extremes, blowing rain and immersion
* Encased in rubber, non-slip Dura-Grip® material for sure hold and extra durability
* Stereo Bluetooth® wireless technology
* 2.5mm stereo headphone jack (supports PTT headsets)
* 1GB microSD memory card
* Large-font menu option
* GPS navigation enabled
* Supports SMS and MMS messaging and third-party data applications
Kyocera DuraCore is an affordable, high-impact solution for a mobile workforce that relies on push-to-talk. Additional features of this rugged, clamshell-style phone:
* Military standard 810G specifications for dust, shock and vibration
* Encased in rubber, non-slip Dura-Grip material for sure hold and extra durability
* Bi-directional speakerphone
* Bluetooth wireless technology
* 2.5mm mono headphone jack (supports PTT headsets)
* Large-font menu option
* GPS navigation enabled
* Supports SMS and MMS messaging and third-party data applications
In addition to Direct Connect® and group calling options, the devices are expected to enable Land Mobile Radio (LMR) interoperability, simultaneous data and push to talk, and availability notification. In early 2012, Sprint Direct Connect will offer additional capabilities, including international push-to-talk.
Sprint continues to involve developers in the creation of new applications through its Sprint Gets Rugged application developers program. The program provides information, support and tools needed for developers to port applications to Sprint Direct Connect devices and to create innovative applications.
Sprint Gets Rugged application developer program also will be featured at the Sprint Open Solutions Conference, Nov. 2-4, in Santa Clara, Calif. For more information or to register for the conference, please visit http://developer.sprint.com/devcon2011.
More information on the Sprint Gets Rugged application developers program can be found at http://developer.sprint.com/SprintGetsRugged.
Better Coverage and Capacity
Sprint Direct Connect marks a tangible initial benefit of Network Vision, Sprint's blueprint to deploy a cost-effective and innovative network. Announced in December, Network Vision is expected to consolidate multiple network technologies into one seamless network, resulting in enhanced coverage, quality and speed; better network flexibility; reduced operating costs; and improved environmental sustainability. The plan includes a complete upgrade of Sprint's wireless networks accompanied by changes in device chipsets and network infrastructure.
The expected benefits of Network Vision to Sprint's push-to-talk customers will be wide-ranging:
* Push-to-talk coverage footprint is planned to increase to nearly 2.7 million square miles and is expected to cover a population of 309 million (with the addition of 1xRTT and roaming coverage) – an increase from the iDEN network's 908,370 square miles covering a population 278 million.
* In-building coverage is expected to improve significantly through investment in the most advanced CDMA technology and radio equipment.
* Voice and data capacity is expected to increase significantly as Sprint will be able to fully leverage its industry leading spectrum holdings in 800MHz, 1.9GHz, and – through its relationship with Clearwire – 2.5GHz.
"Our customers are asking for broadband push-to-talk now," said Paget Alves, president-Sprint Business. "We've seen steadily increasing demand for faster data speeds, better and broader coverage, and more applications on push-to-talk devices. Sprint Direct Connect is designed to solve for all three and is expected to come with sub-second push-to-talk call setup time initially in Sprint CDMA Rev. A (3G) coverage areas. Sub-second call setup is expected to expand across the United States with the implementation of Network Vision."
During the nationwide implementation of Network Vision, Sprint expects to continue operating the iDEN network at current best-ever performance levels. As the customer base shifts to more broadband-centric push-to-talk applications on the CDMA network and Sprint launches Sprint Direct Connect, iDEN cell sites are expected to be phased out in 2013. Sprint account executives will work with customers to provide a smooth transition with personalized upgrade assistance. Sprint also plans to offer current Nextel Direct Connect customers attractive device pricing to help transition to Sprint Direct Connect.