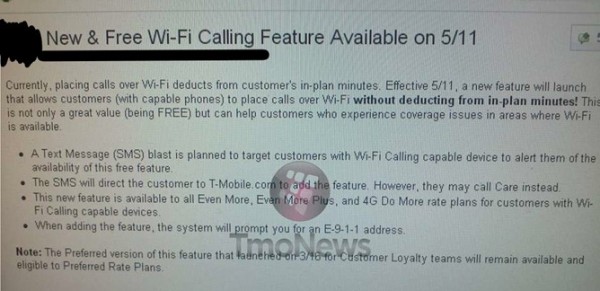 Starting tomorrow T-Mobile customers will have access to a new feature that will allow Wi-Fi calling capable devices to make and receive phone calls for free. These calls will not use your calling minutes.  In other words, they will be unlimited calls and that's very exciting news!!
Rumor is that the qualifying customers will receive a text message when the feature is available and you can then add it to your plan via the web or by calling customer care. The best part about this news is not only that it's free but also that those of you on the  Even More, Even More Plus and 4G Do More rate plans can get the free unlimited Wi-Fi calling too!
Isn't this great news for those of you who currently are cutting into your minutes when you are making Wi-Fi phone calls? This will stop that from happening so you can spare those minutes for other purposes now. If this excites you and you will be taking advantage of the feature, let us know what you think! Leave your comments in the box below.
Source: Android Police via Tmo News