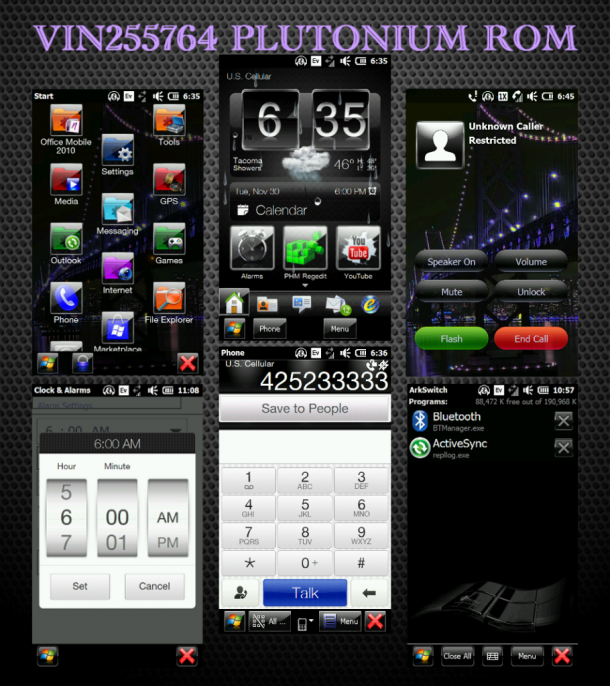 Today we bring you the latest ROM review we've done here at PPCGeeks. Thanks to krazydude we have gotten some great insight on one of our Windows Mobile ROM developers work, the Touch Pro 2 Plutonium ROM by vin255764. Krazydude is here to share his own experience with the very popular Plutonium ROM.
You may have already seen, heard about or used this ROM yourself. Either way please take some time to really get to know what the ROM brings to your device.
1 ) What was your first impression when you first installed the CDMA Touch Pro 2 Vin Plutonium ROM by vin255764?
My phone is a world phone which can run both CDMA and GSM. So I use a GSM sim card on a CDMA phone. The first thing that i noticed was the speed at which I could operate the ROM. Also for me the most important aspect of any ROM is the stability while making and receiving calls.Vins ROM's are outstanding as far as stability is concerned. I do not have to reboot the phone and I get very few SOD's (or not at all) for days on end. This for me makes a good rom and Vins ROM's never disappoint!!!
2 ) Can you give your input on the UI navigation/homescreen/buttons? What theme does it come with and how does it look?
Most of the time I use SPB mobile shell, which creates its own user interface. But the few times where I have not loaded SPB, I have always found Vins ROM's to be asthetically appealing and functional. His programs are neatly stacked in folders and his ROM's are very easy to navigate from. Also on the first boot as well, his choice of the WINDOWS BOOTUP ANIMATIONS are also very easy on the eyes and the color combinations (themes) used are very easy on the eyes as well.
3 ) How is battery life? (How much % drain per x minutes/does it noticeably drain in standby)
Battery life is also very good. I normally get 1-1.5 days on a single battery charge (though my usage is normal) I do use a lot of internet / phone / sms etc. on the phone and I would say that my usage is moderate – heavy. I have not noticed any noticeable drain in standby ever.
4 ) Does it have Sense UI or no Sense UI? If using Sense, is it CHT 1, 2 or no cookie?
I normally use the Titanium or Naked ROM builds of Vins (since I load SPB over and above). So the lighter the ROM (without sense / CHT) the better.
5 ) What are any specific applications that come with this ROM that you may not find on stock ROM's?
Slacker Radio / provisioning utilities or cdma which I dont use
6 ) What is the bluetooth quality like on the device with this ROM? Were there any tweaks made in this ROM for that feature?
I've never had any problems using bluetooth with this ROM. I am not aware if Vin has actually made any tweaks on the bluetooth stack but if so, it must have helped in the overall functionality of bluetooth. My bluetooth usage is minimal though. I just use bluetooth to transfer a few files from my phone to my wives.
7 ) Can you describe how long boot time is? Does it take a while or is it pretty fast?
Boot time is pretty snappy. I also use Android on my phone and if the WM boot was slow I would never consider using android because I keep switching between the two. Boot time is normally around a minute (I've never timed it though) but its pretty snappy.
8 ) Can you describe RAM and ROM on 1st boot? (How much internal storage do you have after flash and RAM)
Immediately after the first flash I have around 175-200MB storage (depending if the ROM is plutonium or titanium or naked.) Ram is around 100MB on first boot which drops down to 70-80 after usage.
9 ) How well does the WiFi feature work on this ROM you use? Does it differentiate in any way from the stock WiFi features? Does it hold a strong network signal for you while in use?
I have not used a stock ROM since the first day I bought my phone so I can't compare a stock ROM with a custom ROM. WiFi on this ROM is very stable and I have never had any complaints. I use my phone on WiFi at home and the office and I can say that the WiFi is very stable and fast.
10 ) What dialing options do you have available with this ROM? Can you give us details or screenshots?
Vins ROM comes with stock dialer options but he does give us skinning options (bling devotion dialer skins here.) These can be added to your rom to customize them to you liking. In fact, if you read the first page of vins ROM's you have a lot of customization options and I love vins ROM's for that reason as well.
That's the end of this ROM review geeks and we hope you enjoyed learning what you may not have known already. If you own a TP2 and haven't tried this ROM, what are you waiting for? If you have, that's awesome! We hope to hear from you! Be sure to hop into our TP2 section and check out the official post and information on this development.