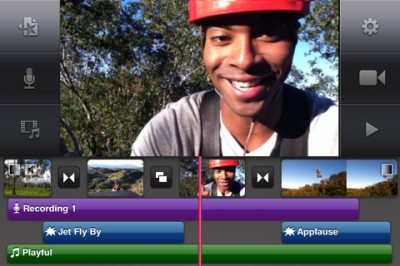 Apple recently updated iMovie, which was for the iPhone and iPod originally, to a universal application. Now it will support the iPad2 and also brings new themes and HD sharing directly to YouTube, Facebook, Vimeo and CCN iReport. If you aren't sure what iMovie is, it's a movie editing application that is part of the iLife suite of digital lifestyle applications that allows Apple Macintosh users to create movies from several different sources including digital video cameras, DV-encoded files and pictures.
iMovie works effortlessly with other Apple applications including QuickTime, iDVD, iPhoto, iWeb, iTunes and with other Mac OS X applications. Below are several other features and benefits you can expect with this application.
Universal app designed for iPad 2, iPhone 4, and iPod touch (4th generation).
Multi-Touch Precision Editor (iPad only).
Multitrack audio editing with 8 themed soundtracks and over 50 bundled sound effects.
Audio recording directly into the timeline.
Audio waveforms (iPad only).
Three new themes — Neon, Simple, and CNN iReport.
HD sharing directly to YouTube, Facebook, Vimeo, and CNN iReport.
AirPlay support for sharing to Apple TV (compatible only with second-generation Apple TV; requires iOS 4.3 or later).
Project transfer to your computer and compatible iOS devices through iTunes.
Ability to add titles on photos.
Option to add fade-in from black and fade-out to black.
Numerous enhancements, including trimming in Video Browser, in-use markers, video rotation, and more.
If you have already used this application let us know what you think. If not, and you plan on doing so we want to know the results. Several say this is one fantastic application for video editing. What do you think?
Source: Iphoneblog