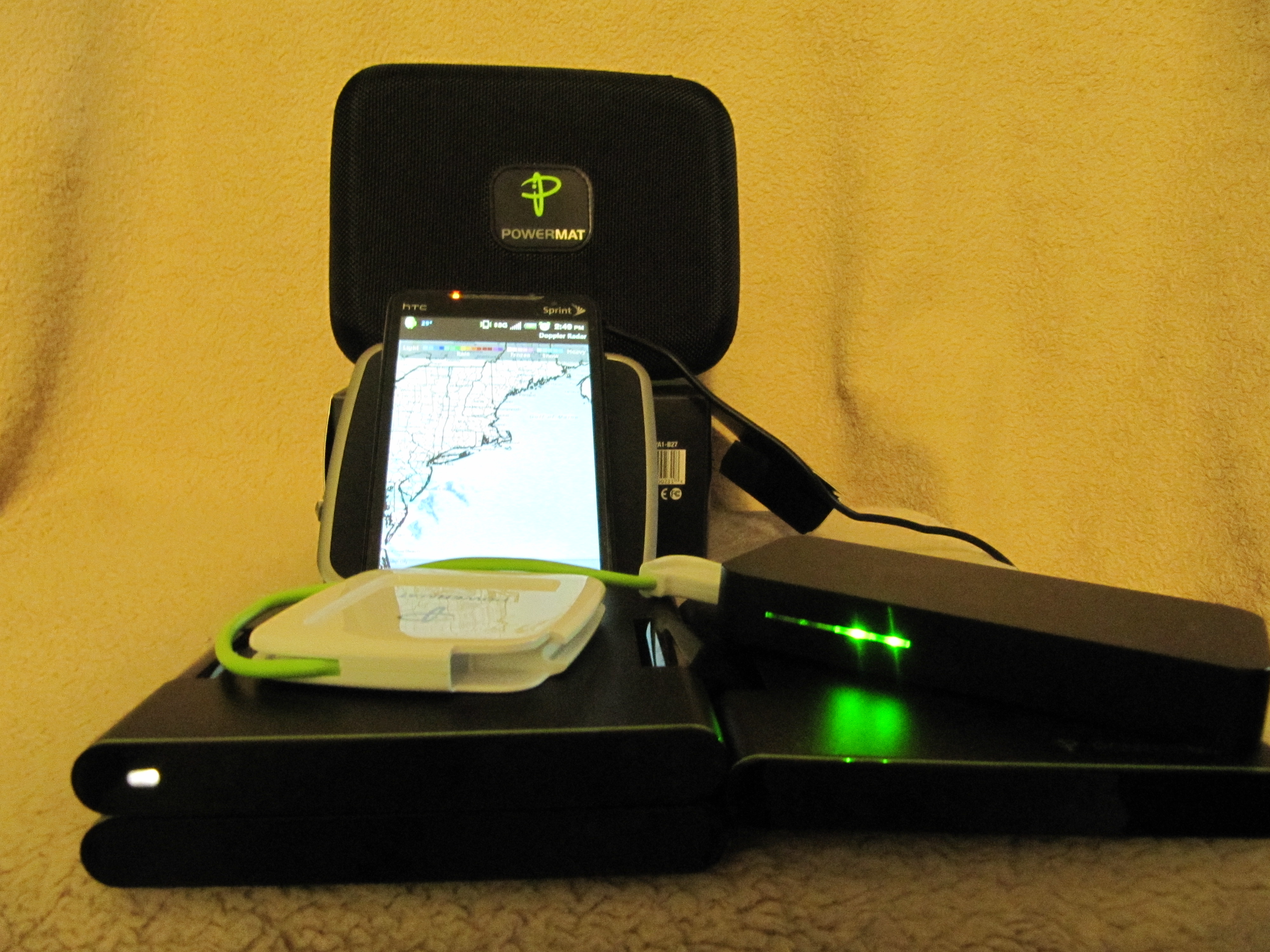 Check Back on Feb. 1st for a Powermat GIVEAWAY!
Let's face it: Charging sucks.
At the end of a long day, I'd often have at least four or five devices in need of a fill up: Cameras, MP3 Players, Cellphones, tablets, and even batteries! (External Batteries gotta charge somewhere!) Now, any average joe would shell out for the standard, circa 1980s power strip to plug in all the cables, and patiently plug each device in. However, the not-so-average-joe, like me, says "Bleep That Crap! I'm getting a PowerMat!"
We're looking at two flavors of the PowerMat series in this review: The standard portable kit, complete with three mats and a universal adapter, but as well as the EVO kit: A single pad complete with an EVO compatible adapter, to make this device seamlessly integrated into the world of wireless charging.
For those unsure of the "black magic" that the PowerMat utilizes, it's called inductive charging. Essentially a electromagnetic field is made around the pad, and magnets are used to transfer the energy in the field "Wirelessly" (The magnets technically are making contact through the field, but that's getting too technical for this review.) PowerMat is the standard and most widely known of products that offer such charging for mobile devices, though alternatives are available, such as
homemade.
We suggest the latter.
The three unit charging station comes with three inductive charging ports, as well a USB standard female plug to charge up to four devices in total with. It's actually quite easy to pack as well, since it folds in a convenient "block" at about an inch tall, still able to charge one device. In full use, it can hammer off four devices rather quickly. The inductive stations clock in at 5V and 1A of power, a little faster at charging than with your PC's 5V and 500 mAh. Interestingly enough, you can control the power and sounds of the mat when devices are added or removed on the three user pad. To get your first device going, the universal adapter kit is included in the unit, containing a standard mini-USB port compatible with hundreds of devices through a bunch of adapters.
Read on to learn of the EVO Adapter!
The other unit is the less portable, but much more stylish single user pad for the HTC EVO specifically. Along with the pad, you get an adapter for your EVO that attaches where your battery cover was, then implements itself into your EVOs charging port. If you ever need to remove the port for connecting the EVO to the PC, the battery cover can stay on while the adapter piece hangs off meanwhile. It's very fragile, and the design has been known to break on people (including this reviewer,) but PowerMat has kindly taken care of us, and assures us new models and designs are in production.
In conclusion, the PowerMat is really a novelty, but one hell of a marvel regardless. To go from three cables to one (to the mat, which is well hidden) is great. But there are a few flaws in the way it controls power consumption. I've seen devices lose connection at random, sometimes after a few minutes, and other times after hours. The unpredictability really ensues a "watched" charge as opposed to being truly cordless and userless. It's nice to have beside your computer during the day, but pray no Earthquake (or loud roommate) knocks into your phone while asleep and dooms its charge!
The Powermat Kit retails for $59.99 (On Sale!) , and the EVO kit goes for the same price at retails, $59,99 . Go ahead and
grab one
or
the other
if your a nut about the latest and greatest, but it seems that they could use a couple fixes before being considered absolutely perfect!
Check back next week for our contest and giveaway of the PowerMat!