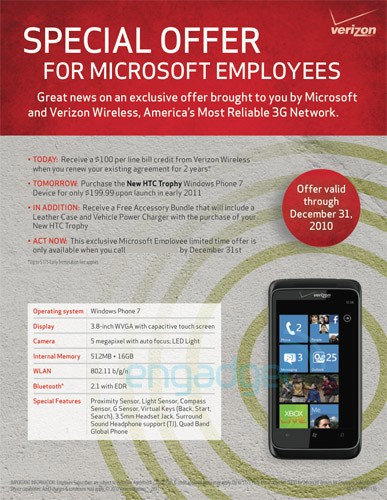 So you and Verizon are happy to be getting Windows Phone 7 right? Well now we know what they will have available soon for Microsoft Employees to pre-order only as of now. It is rumored to be a quad-band phone, which would allow you to roam to GSM networks around the world. Something Verizon is pushing for so we hear.
It will be featuring a 3.8 screen, a 5mega pixel camera and 16 GB of storage loving space. Top that with a 802.11 b/g/n network card and what do we have? Hmmm a remixed Trophy! To add it seems if you are a Microsoft's adorable worker you get to have it with a free leather case and car charger too. How about you add some general love Microsoft! The cost is $199.99 with new contract and it is to be released 2011 as you can see in the flyer provided by Verizon Wireless. So still no CDMA love yet, but I am sure that there will be lots when it does hit our market.
So Verizon customers, will this pull you from the Droid saga that is going on in Verizon world?  How do you feel about this lay out of phone, and does it help that it will be a World Phone? Let us Know!
Source: Engadget.com