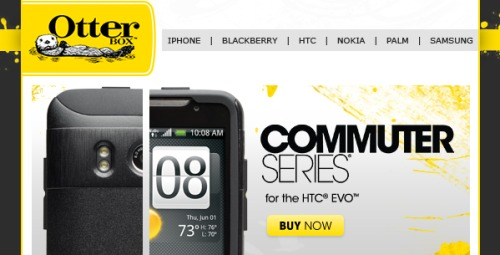 Not too long ago I felt the longest two seconds of my life when I accidently dropped my Evo and watched it fall to the ground. Thanks to our friends at Otterbox now you never have to worry about it again.
Over the past few weeks I have had the privilege to test and evaluate the all new HTC EVO Commuter Series Case from Otterbox.  The Commuter Series case is now available (after a long anticipated wait) and willing to protect your HTC EVO from the elements to include scratches, dings, dust and bumps while allowing full usability of the device. For $34.95, you get a triple-layer case that comes with a self-adhering protective film and features silicone port plugs, added shock/bump protection, and separate cutouts for the camera, flash, and speaker.
The Commuter provides two-layers of protection, a smooth silicone and a tougher polycarbonate shell that latches on top of the silicone. This will add some considerable bulk and weight, which may not be ideal for users who prefer to keep the phone slim. The extra shell appears very durable and beneficial should the phone be dropped or at risk for scratching.
As I mentioned earlier I have tested this case for about three weeks now and I have to say for the most part I am very satisfied with the product. Within the first few hours of having the case on the phone I accidently dropped the phone on some concrete and to my surprise there was no notable damage to the HTC EVO, the only damage done was a few slight scratches to the phone case that were barely even noticeable. The case is not waterproof but will provide some protection against rain. Using the case day-to-day I have to say I love everything about it, well everything except the awkward chin that covers the USB and HDMI ports. I think this part could have been designed a little bit better. I would have liked to see the silicone shell fit a little snugger. The silicone cover is a little lose and allows dirt and lint to get underneath it along the edges, not to mention the silicone cover is a lint magnet but wipes off pretty easy with any cloth. As I mentioned earlier the case does add some extra bulk and weight to the slim and elegant HTC EVO but in my opinion is worth the protection of the case.
The Commuter Series is the first of several cases OtterBox has planned for the HTC EVO, so this isn't the last you'll see of the company here on PPCGeeks.