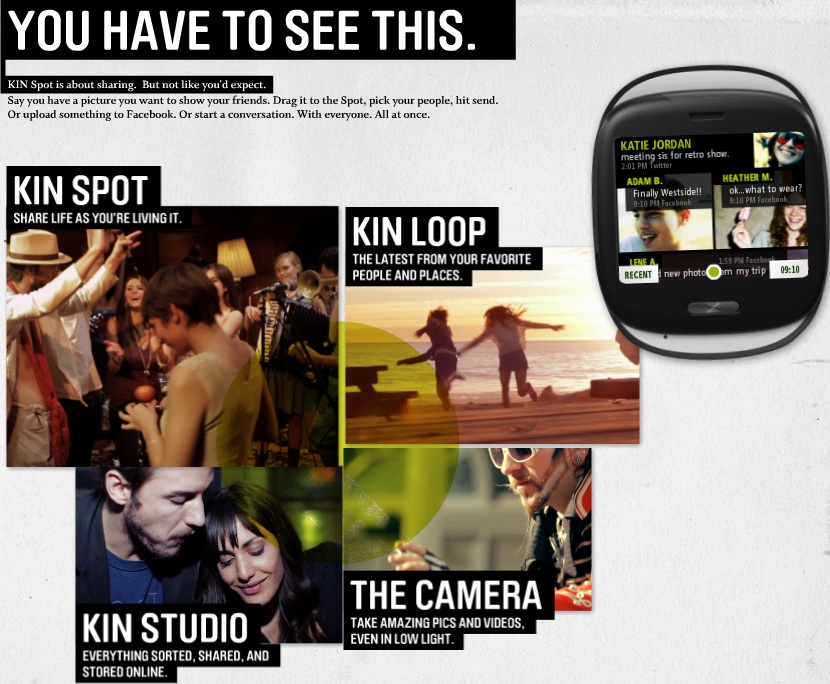 The rumored "Project Pink" that Microsoft has been developing to succeed their Sidekick phone is real, as Microsoft unveiled it today. Named Kin One and Kin Two, these two devices launch with the same focus in mind: social networking.  These phones are "designed to navigate your social life," Robbie Bach of Microsoft stated in the unveiling. "Windows Phone 7 is about simplifying your life. Kin is about amplifying your life."
Both Kin feature the 'Spot', where photo's or video that have been taken can be dragged to and then sent to friends or uploaded directly to various networking sites. Also, a feature labeled as "Kin Studio" syncs all the data on your device to a web server, meaning that all the content on the phone is also accessible via a web page. This seems like a great way to back up important files and contact information without worrying about setting up a sync schedule. This feature sounds like the Microsoft MyPhone App, but this is directly integrated into the device. Another aspect is of the phone is called "Kin Loop", a real time social networking hub that stays current with all the latest tweets, updates, and news stories.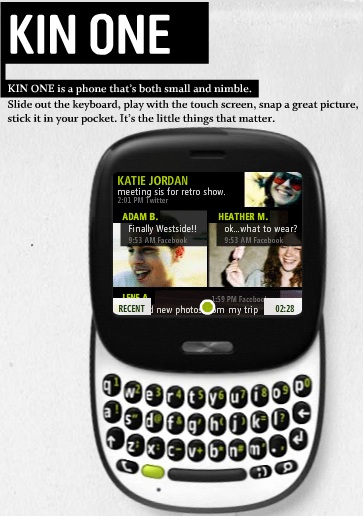 The Kin One, in a form factor reminiscent of a miniaturized Palm Pre, is described by Microsoft as "a phone that is both small and nimble." This device is positioned as more of a social networking-only device, lacking the ability to shoot HD video and the stereo speakers that the Kin Two has.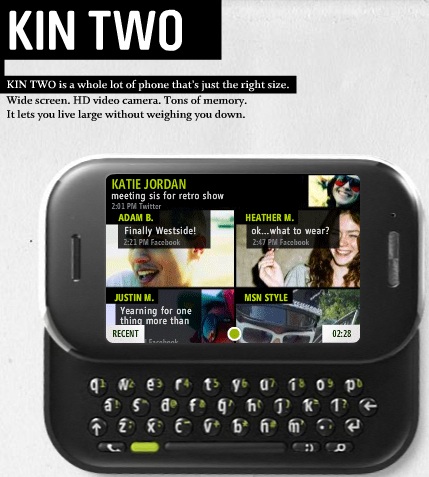 The Kin Two is the champ of this pair, featuring all the social networking features that the Kin One has and trumping its feature set with some exclusive goodies, such as the afore mentioned HD camera and stereo speakers. Being described as "a whole lot of phone that's just the right size", this phone features a slide out keyboard (Touch Pro style) and is more media-centric than the Kin One. Below is a chart that lays out the specs of each device.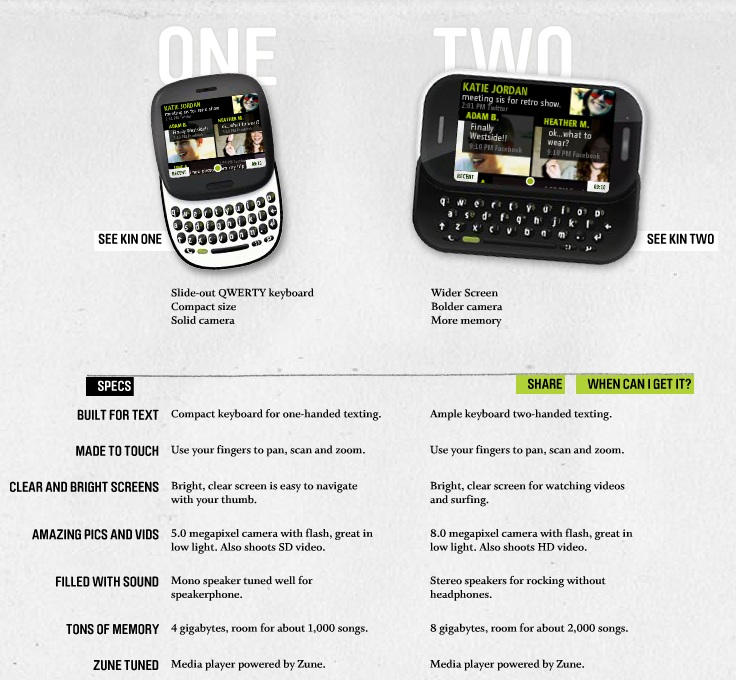 There is no release date, but look for them to be launched sometime this year. These devices are clearly targeting the typical teen user, with features that help them stay immersed in the world of the latest status update or the newest epic Twitter post. Think of this as a stepping stone for the younger crowd to migrate to Windows Phone 7 as they grow older, or least Microsoft hopes this will happen. But one looming question remains unanswered..
Can they play Farmville?