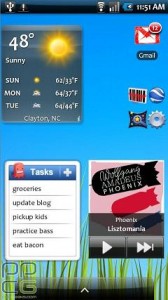 Widgets allow Android smart phone owners to customize their home screens with useful tools and information.  Posters on our Android forums have detailed their favorite widgets and we've compiled a list of some of the best free widgets.  If you've not tried any of these, they are all definitely worth taking a look.
Weather Widget (yr.no)
The developer of this widget pack modestly describes this as "just another weather widget".  This is perhaps the most polished and well put together weather forcast widget pack available for the android.  He also has some amazing flipclocks that moderately resemble clocks from some paid applications (Check out the 'Weather forcast 4×2 widget.)  Definitely a 5 star application.


Gmail Unread Count
This widget is so handy that I am surprised it doesn't come on Android phones from the factory.  This is simply a 1×1 widget that displays one of ten gmail icons and will show how many unread messages are in your gmail account.  Tap the widget and it opens up the  Gmail application and goes to the inbox.  Simple, beautiful, customizable and functional.


More Icons Free
The premise of this widget is simple: allows you to put more icons on your homescreen.  This widget app allows you to put 3 applications in the space of one; the fourth location links to the widget's settings screen.  At first it seems as if the icons might be too small, but the developer has done a good job and it's easy to select the icon you're after.  This  is a perfect addition for people like me as it allows for more room on the homescreens to put widgets.

Astrid Task/Todo List
This is an app that almost everyone would find useful at one point or another.  It's an open source task list that is simple to use and works very well.  The widget alone is enough to generate 5 stars.  The widget will display one of your todo lists in a nice and easy to read format.  Even if you don't use Astrid task manager, the widget can synchronize with other applications such as 'Remember the Milk, Locale and more.


Mixzing Music Player
Although it does consume an entire page, the 4×4 widget is stunning.  The widget gives buttons for the important musc player functions and displays the album art.  Beneath the surface this player will also scan through your music and make recommendations based on the songs you are listening to.  All around a great application over and above being an awesome widget.


NOTE:  Once you've downloaded the widget from the marketplace you must add the widget to your home screen.  To add a widget to your home screen, simply long-press an empty space and select "widgets".
UPDATE: My bad, I confused two different programs both titled 'Weather Widget' and after looking through the Android Market, there appears to be a few others. Anyhow, here is the link to the barcode image for the one I originally posted. Even though it's not what I had intended to post it is still very nice and is pictured above.