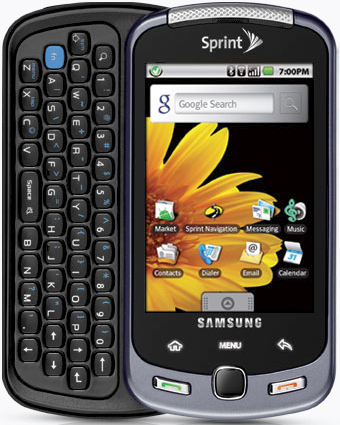 Sprint has announced Samsung's first Android-powered phone, the Samsung Moment (aka InstinctQ) slider. According to Sprint's press release, it will be available on November 1st and you can pre-register here.
Pricing will be $179 on a two-year contract after $50 instant savings and a $100 mail-in rebate.
Samsung Moment represents a new generation of portable Internet access devices and provides access to built-in Google™ mobile services, including Google Search™, Google Maps™, Gmail™ and YouTube™, as well as thousands of applications available in Android Market™. Samsung Moment also offers the first Sprint 3.2-inch AMOLED touch-screen, creating crisper colors and wider viewing angles than other display screens. Samsung Moment is powered by an 800 MHz processor, making this device one of the fastest wireless phones available today.
Samsung Moment offers simple device navigation through an optical joystick located just below the expansive display. It features Wi-Fi capability, integrated GPS navigation and accelerometer. Additional features include:

* 3.2-megapixel camera with flash and camcorder with auto-focus
* Stereo Bluetooth® 2.0 wireless technology
* Expandable memory up to 32GB
* Sprint TV® with live and on-demand programming
* NFL Mobile Live and NASCAR Sprint Cup MobileSM
* Easy access to social networking sites, including Facebook®, Flickr® and TwitterTM
* Media player with 3.5-millimeter headphone jack
* Visual voice mail for quick and easy access to specific voice mail messages
* Access to personal and corporate email through Active Sync
SOURCE: http://newsreleases.sprint.com/phoenix.zhtml?c=127149&p=irol-newsArticle_newsroom&ID=1339737&highlight=