UPDATE:
Sprint has just officially announced they will be the exclusive carrier for the new HTC EVO 3D.
What features can you expect and not have to guess anymore? Let's see, you get a 4.3-inch screen, a glasses-free 3D display,  a 1.2GHz dual-core processor, WiMAX connectivity (including mobile hotspot support), dual 5 megapixel cameras with a flash 'round back, a front-facing 1.3 megapixel camera, support for 1080p video playback via the HDMI out (or 720p for 3D content) and Android 2.3 with Sense.
We still haven't found prices yet but for now this is enough to help you decide if you want it or not right? Let us know what you think.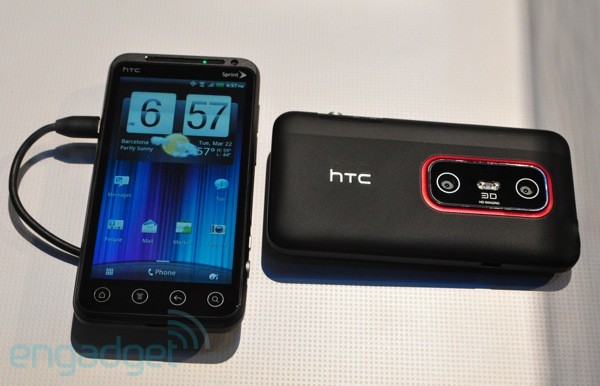 Source: Engadget
END OF UPDATE
The rumors have been spread that these were coming and Sprint.com has now confirmed them with a page to register for information on each of these devices. What's great about this is that nobody had actually seen these until today. Finally we get a closer look at them.
Since we mentioned these earlier this week this is a great form of proof right? No more curiosity in our minds. There aren't any specifications listed though, which doesn't surprise us one bit. This is just Sprint's way of saying get ready because we have some good stuff to show you.
Go on and register for the news and offers on the HTC EVO 3D here and the HTC EVO View 4G tablet here if you are interested. Let us know what you think!