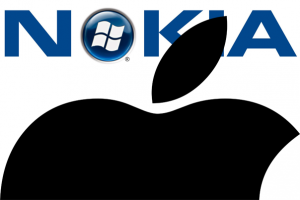 Our geeks asked for it, well some of them, and now they've gotten what they asked for. Nokia announced this morning they have a new partnership that will make Windows Phone 7 become Nokia's primary platform for higher end devices.  Nokia is very successful already so with these plans in store, who knows, maybe they will be the next to pass Apple.
Take a look at the quote stated this morning from Nokia's Chief Executive below:
"Nokia and Microsoft will combine our strengths to deliver an ecosystem with unrivaled global reach and scale. Nokia is at a critical juncture, where significant change is necessary and inevitable in our journey forward."
Basically, what they are doing is combining the biggest smartphone maker in the world (Nokia) with a software maker (Windows Phone 7) and hoping that together they can only improve from here on out. Apple is a hardware and software producer by themselves, stable and also they have enough developers for their applications. However, Windows Phone 7 is falling short for application developers so maybe by joining with Nokia they will have more luck and be able to compete with Apple. Only time will tell what improvements or failures will happen from here on out.
Was this what you wanted? Let us know what you think in the comments box below.