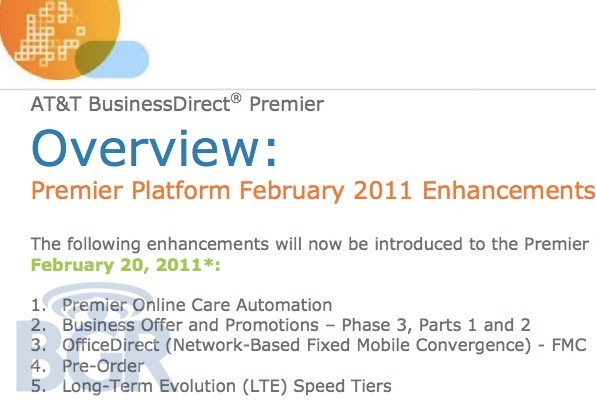 AT&T is on the prowl to get back to that number one spot for cellular service. BGR recently reported that AT&T may have plans to offer tiered data services when it launches its LTE (Long Term Evolution). This wouldn't take effect until later this year but it definitely would provide major updates to their network.
AT&T's plans are to trial two separate types of tiers: speed tiers and data tiers. Speed tiers are going to provide LTE data service at varying rates of speed depending on the plan a customer selects, similar to land-based broadband services currently offered by ISPs. Data tiers will afford subscribers "data buckets" of varying sizes, similar to the configuration of AT&T's current data plans.
It gets even better, especially for those customers who have terrible service but refuse to leave AT&T. They may also be giving you the option to boost your service temporarily for a small fee. Looks like customers will have "Top Up Sessions" which allows users to increase their data allotment for the remainder of a billing cycle, and "Speed Up Sessions," which will allow subscribers on lower-tier plans to speed up their service for a specific duration.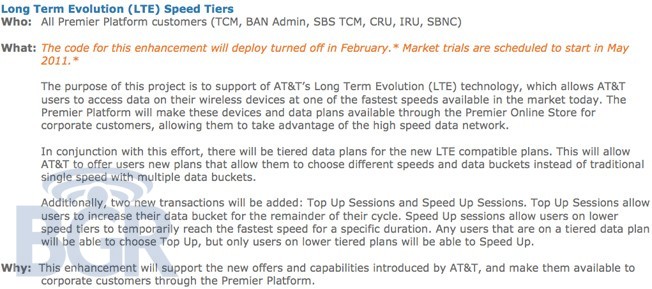 This is all we know for now. It will be interesting to see what kind of speed increases they have when downloading and uploading on their network. The trials for this new operation to start taking place are said to begin in May of this year. When we hear more we will let you know but for now feel free to discuss whether you think this will be a great thing or a failure on AT&T's behalf. I think it can only be a good thing? What about you?
Source: BGR