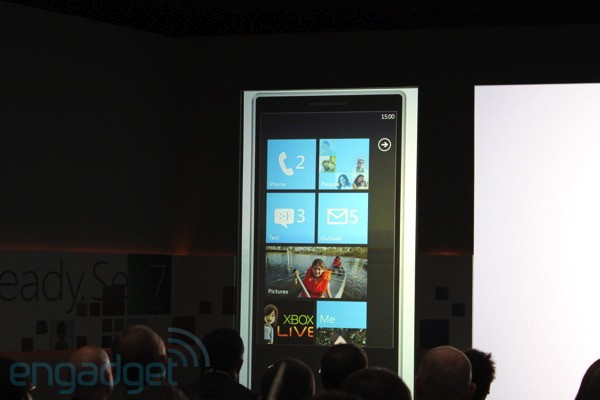 From the demonstration, the new Windows Phone 7 Series seems very smooth and everything has been very well integrated. The prototype device supports pinch-to-zoom in maps and has multitouch. The calendar app is completely revamped and is very finger-friendly. The browser is based on the desktop version of IE and has really improved. It features a revamped pictures app that supports galleries and integration with social networks, such as Facebook. Office Mobile includes OneNote and more SharePoint services. Every 7 Series phone will be a Zune. According to Steve Ballmer, there will be more information coming at MIX next month for developers and partners. Steve Ballmer confirms availability for the 2010 holiday season and he also confirms that there will be no Flash support at launch.
Read up to the minute updates after the break.
Source: Engadget

4:13PM: Steve Ballmer, "I hope we've given you a chance to look at what we're doing. I think we have an opportunity with these devices. I'm enthusiastic about the direction we're heading. It's a big step, but I think we have a chance to make an impact on the market. Three screens and a cloud. The PC, now mobile. We hope 7 is our lucky number!"
4:08PM: David Christopher from At&t, "We're thrilled to be the premiere partner on these new phones. We'll ship 66 million smartphones in 2010. That's double from the year previous. That will be driven in part by 7 Series phones. We can't wait to get these into the market… thanks!"
4:05PM: Windows Phone 7 Series launch carriers: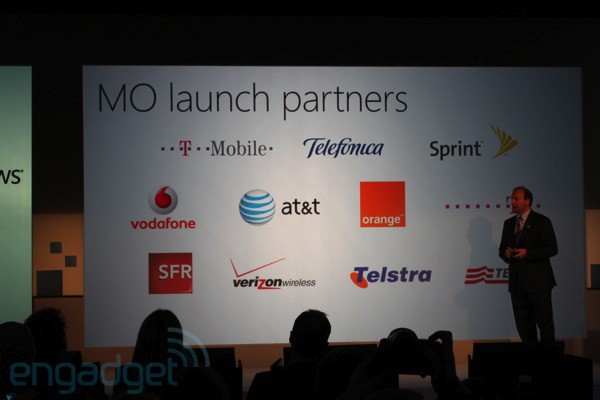 4:00PM: Andy Lees, "I joined the mobile group about 2 years ago. We used that as an opportunity to reevaluate our strategy. We've changed a lot of things, but we've kept the partner model the same. There are more than a billion phones sold every year, and a massive shift over to smartphones. Partners can meet the diverse needs of customers. One size does not fit all. People want different phones, different form factors. We want to strive for synergy where the whole is bigger than the sum of its parts. These phones have four point multitouch."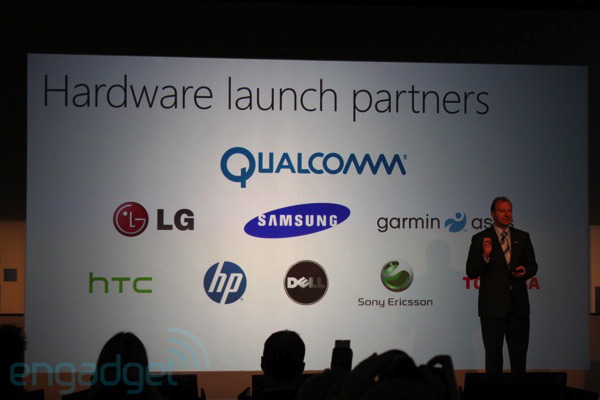 3:52PM: Steve Ballmer, "I hope you share some of my excitement for the opportunity. This market is highly competitive, highly dynamic, and super exciting! You'll see us continue to invest in 6.5, but this is a whole new generation. We built with three fundamental changes in mind. Some should have popped clearly, some probably less so. First, we really wanted to lead and take much more accountability then we had in earlier versions of Windows Phones. At the end of the day, we all understand that in the business of info tech, software and creativity, and the innovation of developers is important. We build a new foundation with a rich set of development tools which we'll discuss at MIX next month. So we'll talk a little bit more about what developers can do next month, but we want to take a very big step forward on that. We also wanted to take a step forward with how we work with partners. We still need to enable partners' innovation. We want to see lots of diversity. And I think the new way we'll collaborate with partners, you'll see that. With out mobile operators, we needed a model that raised the bar, but gave the carriers freedom. I think we're on our way to making the changes we need, and they're pretty exciting. Now I want to invite on stage Andy Lees to talk about our partnerships."
3:47PM: "Okay, I have one more hub to show you… games. As I think about my use of games, I play games on my phone, I connect on my PC, and I play on Xbox LIVE. We wanted to bring that experience together for people. So here's the games hub, which features Xbox LIVE. We're bringing the service as a built in part of the 7 Series."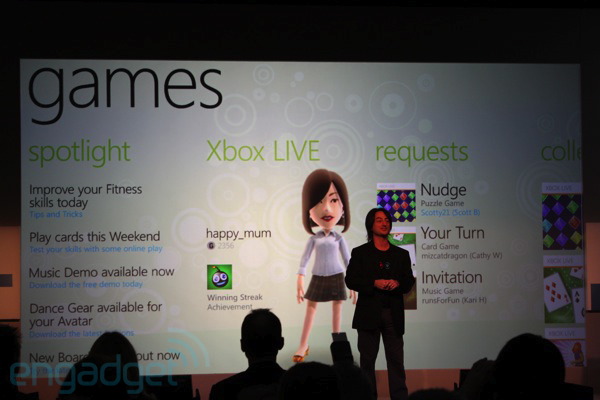 3:44PM: "So the fun stuff… music and video. Now I love Pandora… it's easy on the PC, but the phone is, again, not a PC. So let me introduce the music and video hub. First off, every 7 Series phone will be a Zune. But we go beyond that. So here's a look at Zune on the 7 Series. Notice the Pandora Train radio here. You'll see the phone is recognized, and the Zune software pops up. I know some of you here in Europe may not have seen it. I want to show how easy it is to get music on your device."

3:41PM: "Most of you have probably used Microsoft Office. I'm a big fan of OneNote, I love it. SharePoint is also a great service… but we've tried to take that experience and bring it together on the phone. Here's the office hub."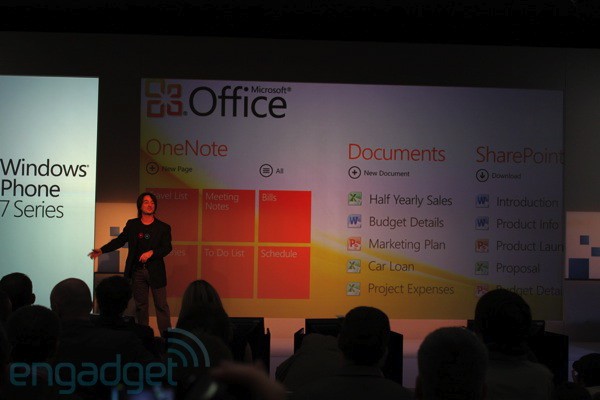 3:38PM: "Next up, pictures. The way I use pictures on my PC is really rich and varied. On the PC using different applications is easy… but the phone's not a PC." It has a similar view to the old pictures app, but now has gallery views and integration with social networks like Facebook.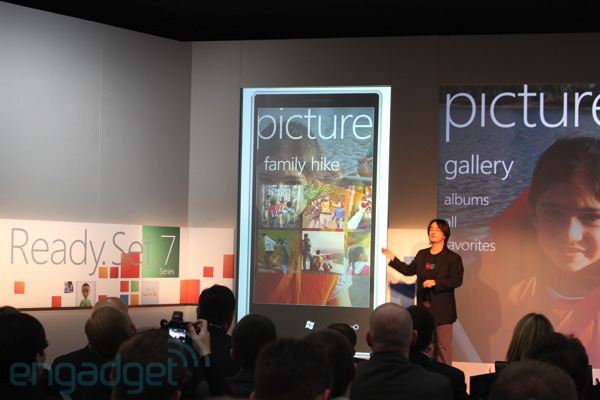 3:34PM: Integrated services are called "integrated experiences Hubs". "On the PC it's easy to switch between those, but the phone is not a PC. So let me introduce the people hub. The idea is to bring together the people you care about the most."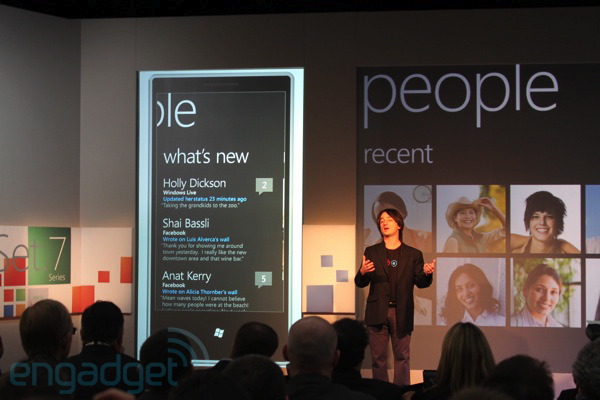 "Now I can press the pin button and add that person to my favorites. That's the idea, bring this stuff together in one place that's simple."
3:33PM: Here's a look at Outlook: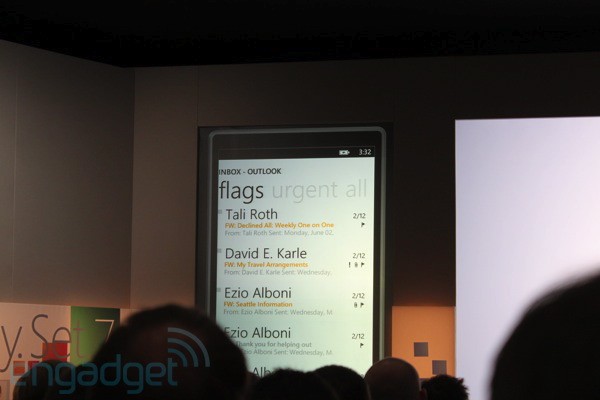 3:31PM: "Here's a look at the browser. This is a much more advanced browser then we've ever shipped. It's based on the desktop version of IE, so it's highly compatible with lots of webpages." The browser looks pretty darn speedy. "I'm going to zoom way in here. I want you to take a look at this, this is a step beyond cleartype, it's called pixel positioning."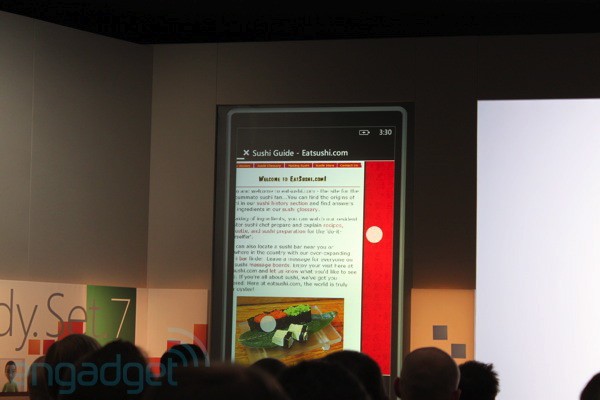 3:27PM: "So I'm going to go back, I'm back at my calendar… I'm going to think of a way to use some free time. I haven't had any time to get lunch… so here in Spain, I'm a fan of Sushi — I touch the search button… and here I am in the Bing search environment." Bing automatically locates you and does a local search. "If I want to pick one of these, the Bing engine tries to provide data… here in Spain we haven't filled out all the data for these items. Directions to here, I can dial the number, I can read reviews. I can businesses near this one."
3:26PM: Maps supports pinch-to-zoom and multitouch.
3:24PM: "Here's the calendar in agenda view… items in red are my personal calendar, blue is exchange. Here's day view — I see all my appointments. Down on the bottom is something we call the app bar, it's all the commands for the application."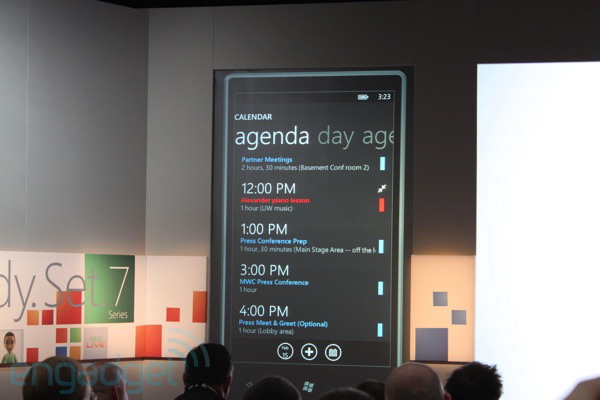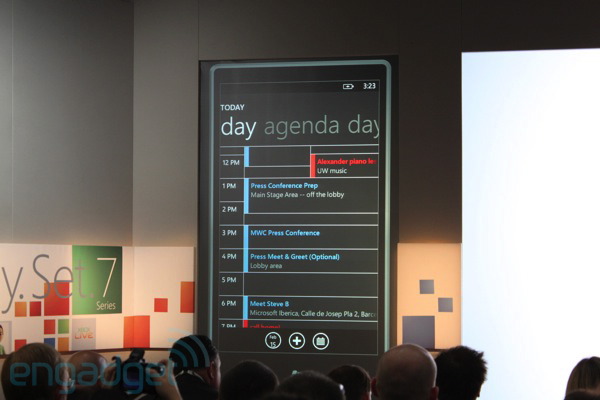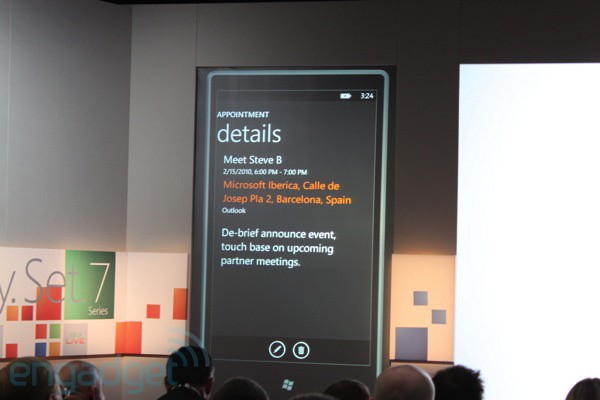 3:22PM: "When my wife updates her Facebook profile, it updates on the tile so I always know what's going on. You can put people on these tiles, you can promote applications, a playlist of the music you're listening to."
3:18PM: "We've tried to make hardware and software that work in unison. Every phone will have three buttons on the front — start, search, and back. We wanted the software experience to be deeply personal and relevant to your life. It should dynamically change to address where you are physically. I'm going to show you a real live demo of a real live device. This is prototype hardware."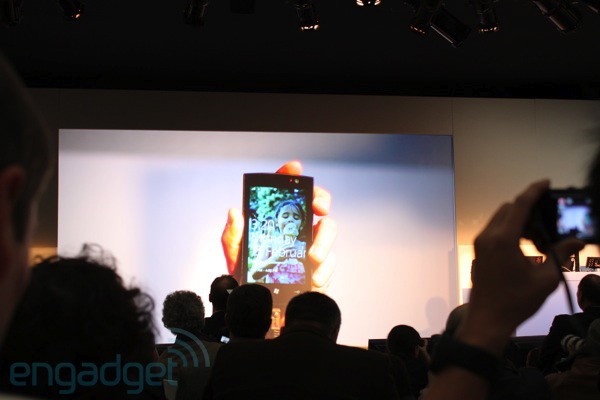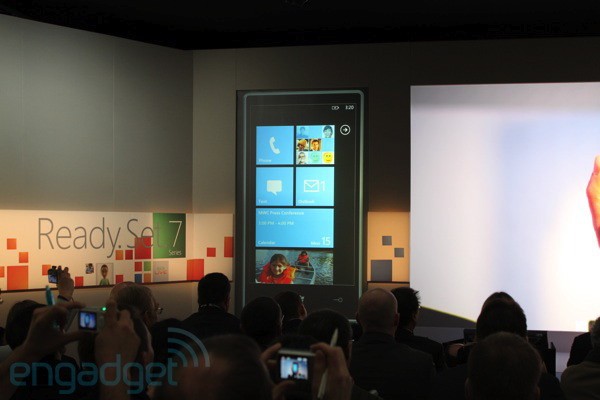 I'm going to show you a real live demo of a real live device. This is prototype hardware.
3:17PM: "We want to make a modern phone that fits people's complex lives. I'm going to show you videos and some code. But there are two parts here. First, we want a smart design that puts the user at the center of the experience. Second, we wanted to design integrated experiences."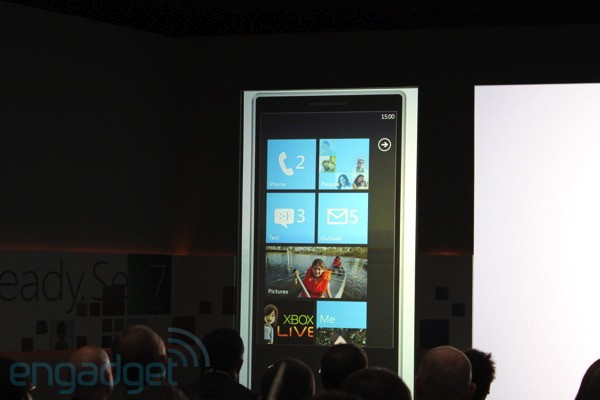 3:16PM: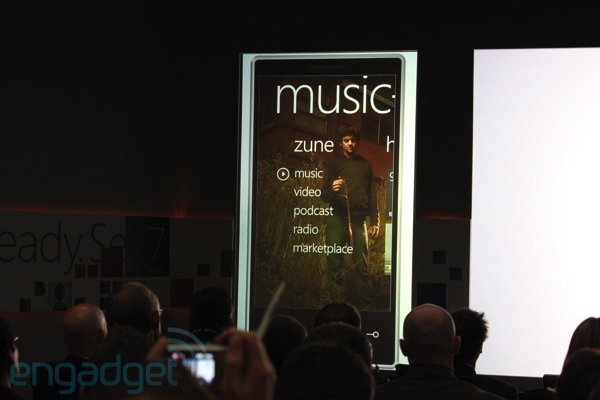 3:15PM: "And with that context, I'm going to step aside and just let you see the new user experience for 7 phones."
3:13PM: Joe said he's been on the team for a year and a half and they recognized an opportunity for change. "Phones kind of look like PCs… and the phone is not a PC. They all started to look the same. We wanted to revisit how we thought about that design. We wanted to move beyond the metaphor that works well for the PC. We asked ourselves a couple of questions. We said how can we build a phone that focuses on the end user?"
3:12PM: Steve Ballmer confirms that Microsoft will be unveiling the next version of the Windows Phone, the 7 Series, then goes on to introduce Joe Belfiore.