The Discovery 975's battery is rated for up to 5hrs talk time or 1 week standby from its 85mA Li-ion polymer cell. The case has its own rechargeable battery, just as the Discovery 925 did, which will recharge the Discovery 975 up to three times. The Discovery 975 can remain powered on and connected while it's recharging in the case. The case lights up and flashes when a call comes in, just to make sure you notice it. There's also an integrated display, which shows the separate battery status of both the headset and the case, together with the Bluetooth connection status.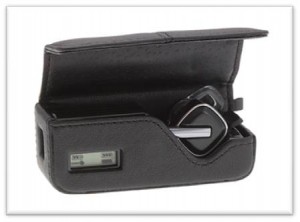 Overall the call quality was excellent on both ends incoming calls sounded crystal clear; and at the other end, my voice sounded crisp and natural. The Discovery's handling of background noise was somewhat disappointing to me. I tested the Discovery 975 in a somewhat windy environment. The parties on the other end could hear sounds of wind, but my voice was crystal clear.
The Discovery 975 has all your normal features such as answering, ending and rejecting calls, last number redial, call mute as well as voice-dialing. The Discovery 975 also features voice prompt that lets you know when you've enabled or disables call mute and the battery and Bluetooth connection status. At the base of the boom arm in the middle of the square diamond is the multifunction call button. The multifunction call button requires a bit of pressure to press since it is part of the overall boom arm. The volume control is a single button that is located on the side. I found myself having to use my fingernail to press this button. Also the volume control is a single button so you will have to cycle through several volume settings before you find the right one.
As for that Bluetooth connection, the Discovery 975 uses v2.1+EDR and supports Secure Simple Pairing (SSP),Hands-free and Headset profiles. It'll also use Multipoint technology to simultaneously hold an active connection with two Bluetooth devices which is a nice integrated feature. Like the Voyager PRO it comes with Plantronics' AudioIQ2 noise-cancelling technology and WindSmart systems for avoiding wind noise, with the two adding up to incredibly natural sound.

The bottom line: Despite the finicky controls, the Plantronics Discovery 975 is a stylish headset with a comfortable fit, and sounds great. Few headsets offer the complete package. With excellent comfort, superior sound quality, and beautiful styling, the Plantronics Discovery 975 Bluetooth headset is by far the best headset I have tested.
For more information on the product or to purchase this product please follow this link.