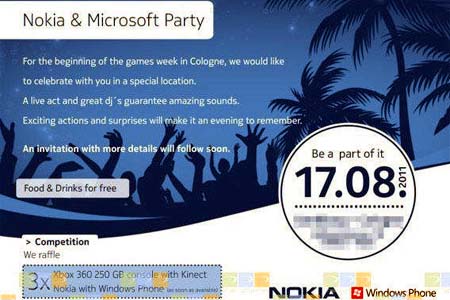 So how would you like to attend a "Party" in a "special" location Cologne, Germany? Well PPCG's has got a hunch that such invitations are being sent out – and it has to do with Microsoft and Nokia. Details were vary sprace but our own JasonFieldz has some in site to what this "party" will be about.
So Nokia has yet to officially unveil it's Windows Phone 7 line up; but in the past month or so we have seen leaks of Nokia's Sting Ray – which will be it's first Windows Phone 7 Mango device. The Sting Ray has gorilla glass, polycarbonate body and a basic N9 feel to it. We always expected Nokia to release a device before 2012 so this is the first Nokia Flagship…
Nokia will more than likely try to regain confidence with it's buyers, stockholders and general public that the move to Microsoft is the right thing to do. We have seen Nokia slip into 3rd place globally with Samsung and Apple taking the first two spots. This would be Nokia's way of telling the World – We are Back to Play Hard Ball.
Things that we have seen about Nokia Sting Ray point that it will be a good device, solid build and yet just as fast and fluid as the previous generation phones. What do you think about this Nokia/Microsoft "special" party? I will be watching all the news channels come August 17th to give you WP7 lovers the goodies! Stay here at PPCG for your news!
Source: Mobileda