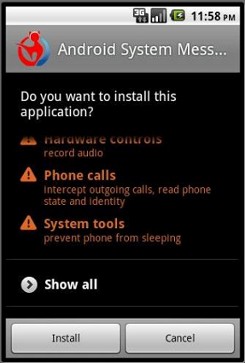 So Today we find that Android has a new fiend in the world. This one will record your calls and listen to your fantasy baseball talk; this should be nothing new for Android users – a Trojan that is – we have had several the past 6 months… With users travelling the back area of the world of Android Markets could easily catch this.
It has not been reported in the wild yet, and may not max your credit cards out but significant others, and corporate users might want to use this on suspicious people. So basically keep your eyes and ears open on what you download and what it does.
So PPCGeeks, keep yourself aware, watch what you do and if you install risky programs be prepared for the costs. What do you all think on these mobile phone Trojans, and malware? Tell me below!
Source: Engadget