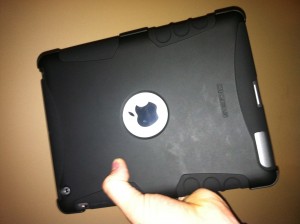 Posted on behalf of Phillip D. Eenigenburg
In order to really review the Seidio Active case for the iPad 2, I actually need to review it three different ways:
1. As a fully-enclosed and complete iPad-body shell: When fully covered using the Seidio case as a front-and-back cover when the iPad is not in use, the case is absolutely perfect. It puts about a half-inch of air space between the screen and the screen-side of the case and almost gives the whole thing a "Panasonic Toughbook" feel. It turns the normally sleek and sexy-looking iPad into looking like it could survive a 10-story freefall unharmed (Do not attempt, I'm just saying it makes the iPad look indestructible). The best part of this application of the case is the circle-window on the back for the Apple logo. Very cool.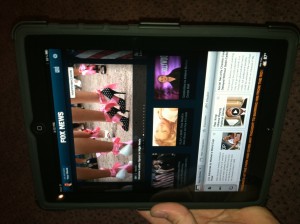 2. As a hard case for the back and edges while iPad is in use: When you remove the front cover to actually use the iPad (which is why you have an iPad anyway), you will find that it can be a tedious couple of seconds trying to remove the front cover. It's not that it's difficult, but if it is to stay on properly when used as a fully-enclosed case, it can't just fall off easily. Once you remove the front cover, you can either set it aside during handheld iPad use, or you can snap it onto the outside of the back cover. That's what I prefer. It snaps easily onto the back cover and gives you even more grippable surface on the perimeter of the iPad, which is clutch for a guy like me with huge hands.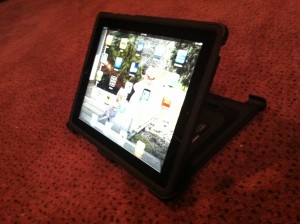 3. The third way to use this case is to utilize the removed front cover as a desk or tabletop stand for the iPad and back cover. The inside of the front cover contains a flip-out stand that gives you a surface to lean your iPad anywhere from almost-flat to almost-upright. It will hold up the iPad in either landscape or portrait format, whichever you need. The flip-out stand is a little tricky to pop in and out of its storage position, but I imagine it gets easier with use.
Thank you Seidio for giving us the opportunity to review this case for our readers!