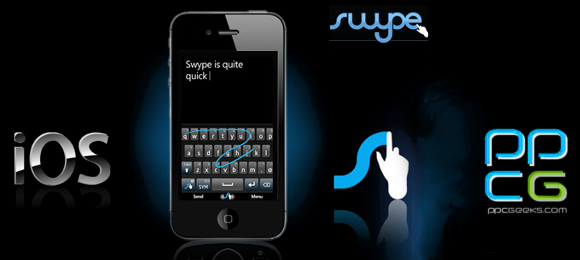 Earlier this week a hack was introduced that allowed users to install Swype for iOS, which for some people it greatly improves their typing speed on iOS devices. Andrew Liu, developer of the "DreamBoard" theming hack for jailbroken devices, has begun to "port" Swype to iOS. The initial release of the modification had several bugs or shortcomings, such as low accuracy and problems with word prediction. Well the Swype port has now been updated to address those issues and make it feel more like the original.
Beta 2 of the Swype port for iOS also brings the blue swipe tracer line that we are all familiar with when we think of Swype. In a very short time, the Swype port for iOS went from a somewhat buggy tweak to a fairly usable one. We can only assume that if development continues, that this will be just as popular as the original Swype for Android and the late Windows Mobile.
The official version of Swype is developed by Swype, Inc., which is no way affiliated with the iOS version we're showcasing today, despite sharing much of the feature set. Available for Windows Mobile-based handsets, and later the Android operating system, Swype is a patented technology many iOS users have been waiting to get their hands on.
It's not yet clear whether or not this is all ported, or being completely developed from the ground up, or a mix of both. Chances are it's a combination of the two.
Here are a few words from Brian Resnik – Community Relations Specialist from Swype on that subject:
The first thing we want to make clear is that this version released via Cydia is not in any way an official Swype product, or related to SwypeInc. in any way. It appears this developer wrote some of his own code to emulate a Swype-like experience and is using our brand. We don't know if this is a 'hacked' version of Swype or not. I'm thinking not. We are still investigating, but either way, this is not an official release or port of Swype to iOS. Additionally, since we weren't involved with the development of this application, we can not vouch for the integrity of the software. From a consumer's perspective, we recommend researching the developer on your own to ensure the trustworthiness of this application from a security standpoint.

Our legal counsel is advising us on the best course of action regarding this 'hacked' release. We'll continue to follow the situation and do whatever our management team determines is appropriate to protect our intellectual property. We're not looking to prove a point or anything like that. Frankly, as our CEO mentioned in an interview with GeekWire on the topic, the clear interest demonstrated by this release from iOS users in having Swype is exciting. But we do still need to protect our brand and, if it turns out that some of our code are being used, our patents.

Also, people are already saying "this proves that you can get Swype on iOS, even if it's through Cydia, right?" Well, not really. Yes, you can get "tracing" to work via some serious hacking (and even then it only works on jailbroken phones, and in stock iOS applications), but there are other really important elements to Swype. For example, word replacement and editing. With Swype, we know that the prediction engine won't get it right 100% of the time. Most of the time, absolutely, but there will always be a mistake once in a while. The nice thing about Swype is that when that happens you can quickly pull up a list of alternative suggestions – in the new v3.0, they're automatically shown whenever you swipe a word or tap on a previously entered word. When you pick an alternative suggestion, Swype replaces the previously typed word with the new one. Without keyboard APIs, we have no way of interacting with the text field in those kinds of ways. Sure, you can get basic character entry to work, but to get the full Swype experience, we absolutely require certain features to be implemented by Apple themselves.
Whether you're new to Swype or are using the old version, you can install Beta 2 using Cydia.
If you're setting up Swype for the first time, add the following repository to Cydia: wynd.x10.mx/repo.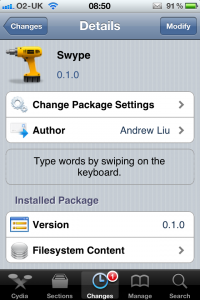 Have you been waiting for Swype for your iOS device?
Does it make typing faster then using the standard iOS keyboard? Many seem to believe it does.
If you have tried it out, share your opinion of the port with us.
We would love to hear what you think about it.
source: WyndWarrior