Fellow PPCgeekers and readers, we present you to the very first Nokia WP7 device. Introduced by no other than Stephen Elop, CEO of Nokia. Ex-Microsoft employee Elop, paused his presentation to ask the crowd of bloggers and journalists to "put away their cameras" as he was going to show them something "super confidential." Despite his confidentiality plea someone couldn't resist the temptation and shared a few photos and a quick video they captured.
The leaked video footage shows that Nokia CEO Steven Elop revealed the company's first Windows Phone 7 handset. Essentially a Nokia N9 looking phone bearing the code-name 'Sea Ray', (possibly the W8-00).
A lot of mobile news comes in the form of leaks, crafty and often blurry taken photos of upcoming devices, tweets, whispered exclusives from disgruntled employees, forum discussion, and those who just can't resist the temptation to spread new news. It would seem as though Nokia wants us to believe that this revealing of the first Nokia Windows Phone 7 handset is also a leak. We don't know if Stephen Elop is really so naive as to believe that no one would take a shot of one of the most highly anticipated devices of the year, at least for Windows devices. Well, we have our doubts about that. Was this just another clever way to gain some extra publicity?
Check out the leaked footage and photos below: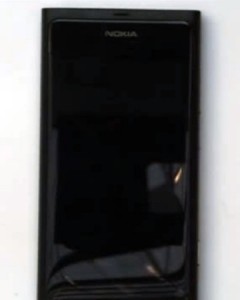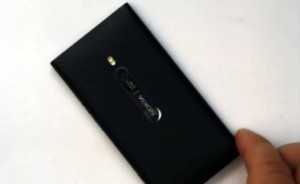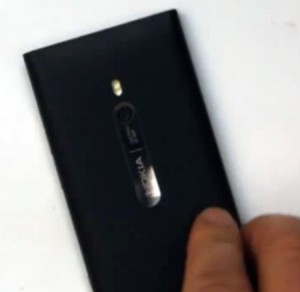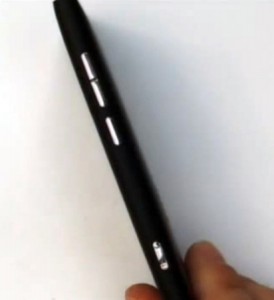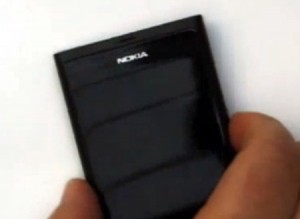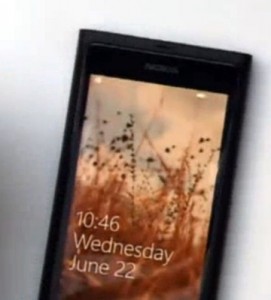 "This is something that's super-confidential and we do not want to see it out in the blogosphere, wherever that is," Elop said very seriously.
If the Sea Ray looks familiar, it's because Nokia introduced a similar phone, the Nokia N9, earlier this week. Some differences include a dedicated hardware camera key, different LED placement and as you know, it is running Windows Phone 7 with the yet to be released Mango update. But while the N9 is based on Nokia's MeeGo operating system, a platform that Nokia will treat as a "learning experience". Sea Ray however, represents Nokia's future as the company adopts Windows Phone for its' main smartphone platform.
Nokia didn't reveal many specs for Sea Ray, except for:
• the same 8-megapixel Carl Zeiss lens that the N9 sports
• an added side camera shutter button
We can guess Sea Ray to have, (based on N9 specs):
• processor – (more about this below)
• 3.9″ AMOLED display with 854×480 pixel resolution
• scratch-resistant curved glass
• a polycarbonate body
• 16 GB or 64 GB of storage
That last point would be a big one it seems. As so far, all Windows Phones come with either 8 GB or 16 GB of storage, which can be a deal-breaker if you listen to lots of music or watch lots of movies. It's still unclear if Sea Ray will bring Dual Core to Windows Phones, but that is something that will come. As we do have some details from conversation with CEO of ST-Ericsson(semiconductor supplier) and Forbes late last month, stating that Nokia's Windows Phone 7 devices will be powered by the U8500 dual-core CPU and its successors will go on to power Windows Phone 8 phones too. Windows Phone 7 devices have been exclusively powered by Qualcomm chipsets (due to Microsoft's limiting guidelines, which were revised recently). ST-Ericsson's CEO however says that they will be one of two chip suppliers for Nokia's WP7 phones (he didn't mention who the other one was). The first Nokia devices may well use the dual-core U8500 chipset, which has been seen running at 1.2GHz. Things might change by the time these devices actually come out, but they could well be the first dual-core Windows Phone 7 handsets.
The CEO also said that over the course of 2012 Nokia will release 12 Windows Phone 7 devices that will be based on future versions of the U8500 chipset. He also believes that ST-Ericsson will be a key supplier for Windows Phone 8, yep that's 8.
So wait a minute you say. I don't understand why Nokia chose Windows Phone as their new focus as a main platform. What happened to cause this, you ask. Many of you know, but here is a slight breakdown of some main points, just as a little refresher.
Nokia worked on a 'hobby' OS on the side, called Maemo. Originally it was built for Nokia's 'internet tablet' line. The only phone that Maemo ever made it onto was the N900 (in late 2009), which was a device created for developers featuring top of the line specs and a shell enabled right out of the box. Maemo was a true desktop-class Linux OS originally created in 2005 and was clearly what Nokia should have been focusing on to replace Symbian all along. It wasn't until early 2010 however that they realized this and partnered with Intel to create the MeeGo project, a fully open-source Linux-based post-PC (smartphone, tablet, TV, in-vehicle) platform for ARM and x86, essentially the successor to Maemo.
Fast forward a year, and MeeGo still is just not ready. It's absolutely filled with worlds of potential, but it's still a good six months to a year away from being shippable on a consumer's device.
However, one of the biggest reasons that lead Nokia to dump Symbian in favor of Windows Phone 7 from Microsoft is to really try to win back some market share and mindshare in the U.S. But it looks like it will try out its first WP7 devices in markets where it is already strong. In the last quarter, Europe remained Nokia's biggest market, with revenues of $2.9 billion out of a total $10 billion. Greater China was second with less than $2 billion. Currently 65 percent of all smartphone users in Europe have Nokia devices, with overall smartphone adoption at a hefty 40 percent of total mobile subscribers. In a speech at a conference in Amsterdam, a Nokia executive leaked out the fact that the first countries to see their new Windows Phone devices will be France, Germany, Italy, the Netherlands, Spain and the UK.
In this latest sneak peak at the first Nokia WP7 handset, Elop also told his employees that Nokia has other Windows Phone devices in working condition, so Sea Ray may not be the only handset we'll see from the company this year. But for Windows Phone 7 fans and users who saw the N9 and hoped for a Windows Phone version, Nokia has granted your wish.
We gotta admit, the device looks impressive.
What are your thoughts on this leak? Intentional or no?
Do you think this device will be the first dual-core Windows Phone?
Will this fresh breath of Windows Phone on Nokia handsets save this long time manufacturer?
Are you looking to get yourself one of these when they arrive stateside?
source: technet