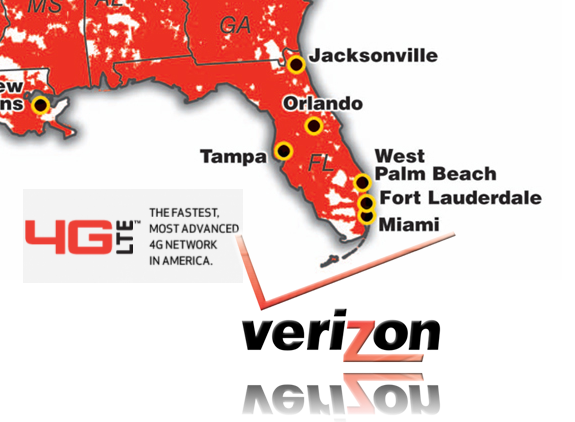 Verizon Wireless announced today that their advanced 4G LTE wireless network will be available to customers in the major areas of Sarasota and Bradenton in 2011.
Florida region president of Verizon Wireless Pam Tope stated, "Florida customers already have a lot of wireless power in their hands with 4G LTE, and this announced expansion in Sarasota-Bradenton will add to that." "We're proud to bring this superior technology to wireless customers in more areas across the state."
Sarasota and Bradenton will be joining the following list of Florida markets that offer Verizon Wireless 4G LTE services:
• Miami
• Fort Lauderdale
• West Palm Beach
• Tampa Bay
• Orlando
• Jacksonville
• Tallahassee
• Gainesville
• Duval Street in Key West
• Southwest Florida International Airport in Fort Myers
Other Florida markets scheduled to launch 4G LTE by the end of 2011 include:
• Fort Myers
• Daytona Beach
• Lakeland
• Winter Haven
As we have reported already many times, Verizon Wireless expects to complete its 4G LTE rollout throughout Florida and across the rest of the country by 2013.
If these reports seem to be coming one after another, they are.
As Verizon works hard to stay ahead, we are right behind them to bring you their latest progress.
Are you still waiting for your 4G?
Any Florida users looking forward to this expansion?
source: verizon