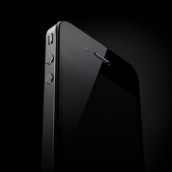 The latest rumor in the Apple world seems to be that the next generation of iPhone will be completely SIM-less to accommodate both GSM and CDMA carriers, along with the 3 or 4 antennas so Apple doesn't have to make two models like they are now for Verizon and AT&T. For CDMA people this is no shock as SIM-less way of life is not that big of an issue…Now for GSM folks, this is HUGE news – as this means that Apple will have to make an e-SIM that is stored in the devices memory. This could be a huge security issue if your phone was lost or stolen.
Let's look at the advantages that having no SIM in the phone could mean…It could mean that they could use that space to cram more stuff into it, think memory, bigger batteries. Other rumored changes for the next iPhone, rumored to be known as the iPhone 4S and launching in July-August, include an 8-megapixel camera with an altered flash position. Possibly a new ARM Cortex-A9 processor similar to that found in the iPad2 and possibly a dual-core to keep up with the latest Android devices.
Additionally mentioned was the possibility of the iPhone5 for Spring 2012 release; an unusual time for Apple product to launch but certainly possible as the upcoming iPhone launch has been rumored to have little overall changes to the iPhone 4. As with the iPhone 3GS to iPhone4 release the iPhone 5 will likely features more aesthetically pleasing shape to the contour of your face and hands and have more upgrades/features than the iPhone 4S.
This is all supposed to be announce at WWDC 2011 on June 6th. I guess we can see if these rumors pan out or if they are just rumors. What do you think PPCGeeker's what does Apple need to do to keep the edge over competition? I think they need to release to all carriers, and then be a little nicer to users about bugs issues when they are released. Think back to the "death grip". Let me know down below – but please keep it clean and nice.
source: neowin.net