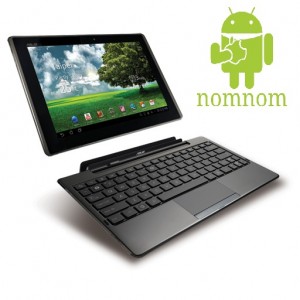 Many of us have been holding out for a tablet that can pretty much replace our desktop/laptop at home. Asus seems to have come up with a great product that can do just that for some of us. This powerhouse includes features such as 10.1-inch gorilla covered multitouch display, 16gb/32gb storage, 1GHz Nvidia Tegra 2 processor, 1gb of ram, dual cameras, up to 16 hrs of battery life and an HDMI-out port.
Asus has not released pricing or release dates, but there have been pre-order screens at Best Buy for $399 that have been removed. Can this be the beginning of Android taking market share from the Windows desktop/laptop market?
Is this what you GEEKsters have been waiting for?
What do you think? The inquiring minds at PPCGEEKS want to know.
Check out some of these amazing Specs:
Eee Pad Transformer TF101
• NVIDIA® Tegra™ 2 1.0GHz dual-core CPU for excellent multitasking & 1080p video playback
• Android 3.0 Honeycomb O.S. with Adobe® Flash® 10.2 support*2
• Full QWERTY keyboard, touchpad input with Polaris® Office® for mobile productivity
• 16*1 hours long battery life for all day computing with docking station
• Brilliant IPS panel with ultra-wide 178⁰ viewing angle made from scratch resistant and super tough glass
• One year of Unlimited ASUS WebStorage, two USB ports, SD and Micro SD card readers for easy sharing & storage expendability
• 3D stereo with max bass response with SRS premium sound
More Specs and capabilities here: ASUS
Update:
It seems there was a good reason for Best Buy to take the pre-order site down. The right price is nearly $569 U.S for the 16 gig version without the keyboard. The keyboard is priced around $75 U.S.
Here is the right pre-order price in England: Amazon