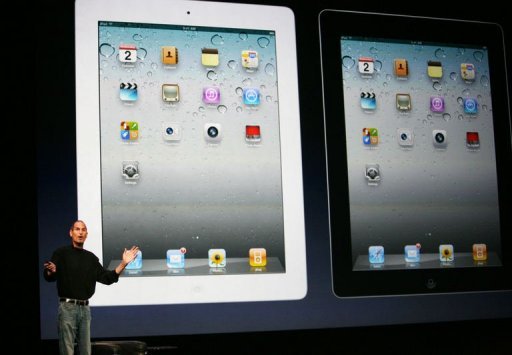 One hot topic on the internet right now is the unveiling of the iPad2 which took place on March 2, 2011 by Apple's Steve Jobs in California. Following the announcement, Samsung immediately admitted they feel they have a tough challenge to face and have to make some changes.
The iPad2 (8.8mm) is not only thinner than Samsung's latest Galaxy tablet (10.9mm) but also cheaper in price. When Lee Don-Joo, Executive Vice President of the Korean Samsung Firm found out the specifications he stated that "We will have to improve the parts that are inadequate."
Samsung's original 7″ screen Galaxy Tab was priced at nearly $900 without a two-year contract, where the cheapest iPad 2 costs $499. That's a huge price difference! Samsung hasn't announced pricing for its new 10.1-inch tablet. They did consider pricing it higher than the 7″ but think they need to rethink all the prices with a competition like this on the market.
Sources suggest that Samsung has sold two million Galaxy Tabs since October 2010, while Apple sold 15 million iPads in April-December. It doesn't look like price makes a difference to the buyers as much as you think it would. What do you think?
This just tells us that maybe Samsung will have a huge price drop soon. That would help consumers in the decision making process. At least price wouldn't be so much of a concern if they do drop a little.
Did you purchase a Samsung Galaxy tablet? Do you think you paid too much for what you got? Let us know your thoughts on this article in the comment boxes below.
Source: Samsunghub and Physorg