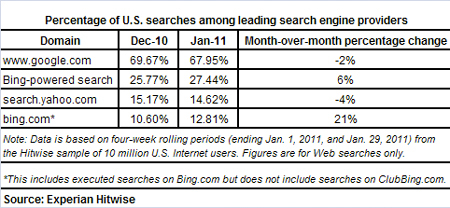 Sources say Google is claiming that Microsoft is stealing their search abilities and have had little influence on people's search habits. It seems while Bing is growing, Yahoo and Google are both down a few percent as you can see in the chart above. Either way, it doesn't look like many Google users are bothered by any of this because each of the services are still being used.
In today's published announcement, Bing.com has gone from 10.60% market share in December 2010 up to 12.81% market share in the month of January 2011. That's a significant increase of 21% month-to-month. Do you think the Android Samsung devices had something to do with that? In the same time Yahoo search was down four points. Overall Bing-powered search (which operates Yahoo! and Bing) was up from 25.77% to 27.44%, a total increase of 6%. In this day and age does this shock you?
Android is huge here in the USA and Google has pumped money out to be a default search partner with Apple, WebOS and of course Android. Do you see people using Bing more than the default search? Keep in mind these stats are from all searches (including desktop).
The Bing search engine is not only being used more but has also recently received a higher success rate in webpage clicks. Basically what this means is that 81% of searches that took place on both Yahoo and Bing resulted in the user actually clicking through to a website completely. Google's success rate was quite a lot lower at 65%. Why do you think this is the case? Are Android users searching more and not actually clicking through?
Does this make a huge difference to you PPCGeekers? Who does a better job? Do you see Google losing grips on a dear market that they worked hard to conquer? Let's discuss it down below and see who or what wins. Please keep it clean ok?
Source: neowin.net