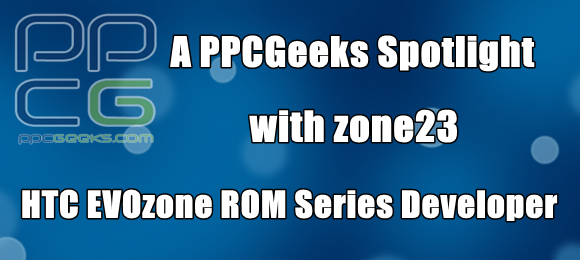 Hello Geeks and welcome to another edition of the PPCGeeks Spotlight where we get enlightening perspectives and great insight from well known community members, developers and leaders. In this edition we highlight a highly respected, well known and talented HTC EVOzone ROM series developer here at PPCGeeks.com, zone23. Take a moment and review the following biography and q&a to get a taste of how PPCGeek members, developers and staff, together, make this an awesome forum.
Biography with zone23
I'm 39 years old and I live in Youngstown, Ohio. I graduated from ITT Technical Institute in 1998 with an Associates Degree in Computer Aided Design. I'm engaged to be married and have two kids. I enjoy drinking Redbull, hanging out with my friends and spending time with my family. I've built my own computers for as long as I can remember. I work for a company doing CAD and IT.
Q&A with zone23

1 ) What brought you to PPCGeeks?
I was searching for a site that could tell me how to do more with my HTC Touch Pro. It all started right here on PPCGeeks. I found a user named NRGZ28 and thought wow look at what this guy can do. I wished I could do that. He is amazing.
2 ) What/who persuaded you to want to begin customizing your phones?
NRGZ28 is the god father of my ROM customization. It all started with using his ROMs breaking them down to see how he did it. I never liked the green that HTC uses. I understand that it's their color but I'm a blue kind of guy. So I just wanted to change the color and one thing led to another.

3 ) Did you start by customizing themes first or did you jump straight into ROM developing?
I've never done just a "Theme" in my experience themes just cause too many headaches. You can't control what base people are installing it on so you never know what the effects of a theme are going to be. It's much easier to just create a ROM that way you feel a little more confident that "hay this is going to boot".
4 ) You've built ROM's for more than one operating system. Could you give us a brief description of which ones for those who may want to find your work?
I've built ROMs for the HTC Touch Pro 2 and of course now the HTC EVO4G. Most likely will cook for whatever my next phone is.
5 ) Do you still develop for all operating systems or are you strictly Android only now?
I only run with the Android now. Every once and a while I load up Calkulins Kitchen for the Touch Pro 2 and throw something together for that phone, but the EVO is so much faster that it's hard to use the Touch Pro anymore.
6 ) Which operating system would you say is the easiest to make a ROM for and why?
Definitely Android you really only need a zip program like winrar and an image manipulation application like Gimp to really customize a ROM. With WM it was a little more complicated than that.
7 ) Which operating system would you say is more fun to customize or develop ROM's for?
I really think that I have to give this to WM. Cookies Home Tabs for WM is a great addition and we really haven't seen this type of development for Android yet. So far it's mostly changing colors, changing Rosie's, things of that nature. We have some really great developers that understand how to code. So hopefully they will start to develop some cutting edge features.
8 ) Have you had help or gotten insight from other users when building Android or Windows ROM's and the themes that go with them?
Not really. A lot of the DEV are tuff to communicate with. When you ask a question they respond in code it seems like. So with Google being my friend is really just search and read. Not to say I haven't had help they generally just point you in a direct they never say "just do this".
9 ) Most of the geeks are familiar with the EVOzone ROM series. Do you name all of your ROM's within that series or have you had other code names?
We'll the TP2 never really had a series it was just a single ROM. Android for me has gotten a lot more complicated since I have different ROMs using different bases. The ROMs also have different style like you can get EVOZone in RED or BLUE. You can get it with colored menus or without. It's a lot of flashing.
10 ) What sort of tools do you need to be familiar with to build a stable ROM on Android?
Definitely WinRAR, Gimp, APK Manager, Eclipse, and AvaboxV2. Each app has its own little thing that it does. For example APK Manager I can decompile, recompile, zipalign and sign apks in windows. Each ROM builder/themer has their own set of tools they use but for me those are the simplest and get the job done.
11 ) As a ROM developer, do you spend a lot of time customizing ROM's such as making changes or updates?
YES! Lots of time. For most Developers it's just a single ROM they do it and they are done. For me its 8 ROMs. For example if HTC updated Sense (we can all dream can't we) it could take 3 – 4 days to update all the ROMs. Maybe longer if I run into issues.  Lots of RedBull is required for this.
12 ) Do you get a lot of requests/suggestions/tips from our users that help your ROM's be more successful?
Not as many as you would think. I get the occasional "how about adding this" and I try to listen. I do this for others so if I think everyone will like it then I go with it, if I think it's a one or two user then I just try to make a compatible update just for those users.
13 ) What ROM would you say is your most successful?
The EVOZone RIPTIDE Series is by far the most successful ROM. Users love the clean look of the ROM. It was the first to have colored menus which users really seem to love (Thanks RIPTIDE9). My man Vegasdenn has done a lot with RIPTIDE including the Power Control Widget icons. This really gives it its own look.
14 ) Do you enjoy spending time on PPCGeeks and sharing your work with others? I ask because our geeks sure do enjoy your work here!!
PPCGeeks has been by far the friendliest site. Other sites seem as though they could care less. Users here are a lot friendlier then some other sites out there. You can ask a question and not get slammed 10 times before you get an answer.
15 ) Last but not least, would you ever develop for Windows Phone 7 or iPhone OS? Explain.
iPhone NO WAY! Windows Phone definitely has a chance. I love Microsoft (fanboy alert) big Xbox fan, Windows 7 guy. If I had a Windows 7 phone that was unlocked I would definitely see what I could do. I think Windows Phone just hit a huge bump in the road. Windows Phone has a lot of possibilities they just need to open it up for developers.Unlike the commercial I don't want to be in and out. I like playing with my phone.
The End
Geeks, that's the end of the spotlight with zone23 and we hope you gained some insight or found answers to questions you may have had before reading this. Have you used his ROM's before? If so, leave some comments and share your appreciation with him below. If you haven't tried one yet, what are you waiting for? Get started by clicking here to check out his EVOzone rom series. Leave your comments in the boxes below.