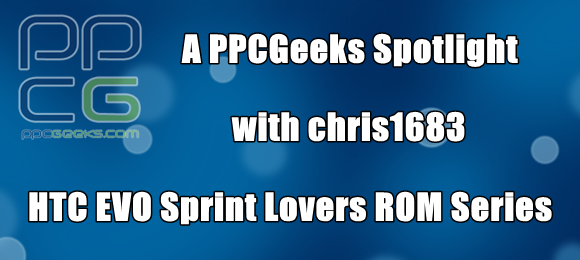 Hello Geeks and welcome to another edition of the PPCGeeks Spotlight where we get enlightening perspectives and great insight from well known community members, developers and leaders. In this edition we highlight a highly respected and talented HTC EVO Sprint Lovers ROM series developer here at PPCGeeks.com, chris1683.
Biography with chris1683
Well as most everyone could have guessed my name is Chris. I started out my smartphone days with the Motorola i930. I then graduated to an HTC Touch Proa few years ago and that was when I learned of the possibilities of customizing a smartphone. I had zero experience with ROM building, unlocking, flashing, etc. All of my knowledge has been learned on the go from a lot of reading and testing. When the Touch Pro II came out I released my first ROM in the "Sprint Lovers"series and have maintained the name and building style to date. I come from a family who thinks that right-clicking is a solid way to avoid computer virus' so it is needless to that that everything I have learned about computers and phones to date has been self taught. The one and only computer class I took in my life was typing and as I type this bio I am still only using the three-finger peck method so I don't think my teacher would have been too proud. Believe it or not my daily job has absolutely nothing to do with computers and my major in college was not computer related at all. Building ROM's started out as more of a hobby and then became more of an obsession for me.
Q&A with chris1683
1 ) What brought you to PPCGeeks.com?
I originally found PPCGeeks.com a few years ago when I was searching for the original HTC theme (known as "Manila") for my HTC Touch Pro.
2 ) What got you interested in ROM building when you got your first smartphone, the HTC Touch Pro?
I remember I had tried out a few ROM's before I started building and most chef's seemed to incorporate their own personal theme into the OS. I feel that even though I may think something looks great, someone else might not like it. This gave me the idea to offer everyone a stock looking ROM which had all of the bells and whistles under the hood. This gives the end user the ability to customise the ROM the way they want.
3 ) What platforms did you start creating ROM's on and which ones do you currently develop for now?
I originally started building customization .CAB files for Windows Mobile before I gave ROM building a try. I originally started with Windows Mobile 6.1 and also built ROM's for Windows Mobile 6.5. Currently I develop for Android however I still keep my Windows Mobile kitchens available.
4 ) With your experience on most smarthone platforms PPCGeeks covers, which would you say is the easiest to develop ROM's for? Which one do you think is more fun?
Both OS's have their respective ups and downs when it comes to developing. I found Windows Mobile to be a little more cumbersome to learn but once a working kitchen was made adding any new updates was a breeze. Android was back to the drawing board and is a totally different building experience. If I had to pick one as being easier I would have to choose WM. Both are equally as rewarding to develop for as I know people enjoy the ROM's, and to me that's all that matters!
5 ) How much time do you actually spend on developing and once you get a ROM released how hard is it to update or change a setting/feature?
I can say that countless hours have gone into learning, testing, flashing, retesting, etc. Releasing a ROM update takes a few hours to build, upload, test the download and then install the download to make sure that what your users are getting is good to go out of the box. Changing a setting or feature can vary depending on what is being done but for the most part once you have a good understanding of how everything in a ROM works as a whole, adding something can be done quickly. I also have started releasing update "patches" which only include the changes from the previous rom to the new rom. This way an entire re-flash is not necessary.
6 ) What other users out there have helped you learn what you know today as far as how to flash/develop ROM's?
I have to give major credit to Mr.X from my Windows Mobile days as he was the first person who ever took the time to give me solid building advice. I also have to give credit to Calkulin for some of his fixes/tweaks which have been incorporated into my ROM's. I try to give credit to whomever has helped me in any way in my ROM threads.
7 ) Do you consider yourself to be part of a developing team? If so, do you go by "code names" as a group or do you just have a name for each ROM? Let us know how that works.
I would consider myself an independent chef since I do not currently develop with any other chef's. As far as a code name goes, I have maintained the name "Sprint Lovers" for my ROM's so that people would automatically know what they would be getting in a ROM. I have tried to keep my building style the same throughout all of my builds.
8 ) Who creates the images/themes/icons for your ROM's? Do you do that or do you have help?
As the theme of my ROM's are generally stock I do not need to do very much creating. In my Windows Mobile ROM's however I did come up with several custom icons and folders which I created.
9 ) How long was it before you would considered yourself a successful ROM developer? What was your worst mistake made in the process of becoming successful?
I think after I created my second Windows ROM there was a good amount of support for my releases and a demand for the stock-like ROM's I was creating. After I saw that what I created was being appreciated by others I felt a sense of accomplishment/success. If I had to pick a mistake which I learned from in the process of developing it would be to download a rom after it has been uploaded! Many times the free file hosting websites can corrupt a download.
10 ) Would you ever consider developing for Apple's iOS or Windows Phone 7? Why or why not?
I would consider developing for both should I ever own a phone with one of those platforms.
11 ) What features or benefits do you like to put in your most recent Android ROM's that differ from stock or others? What makes yours so unique?
I try to incorporate anything and everything into my ROM's which benefit everyone and am always open to requests and suggestions. My uniqueness I think comes from my liking to keep a clean and stock appearance. Most chef's incorporate a theme into their ROM's.
12 ) Would you say the support and help you get from the users here at PPCGeeks is impressive? Do they give you answers and suggestions you need to better your ROM's?
I do get a lot of support from the users on the site and it is always appreciated. Suggestions and answers are often shared by other members on the site and it definitely helps to solve any questions along the way. I generally try to ask for suggestions from my followers after a few releases this way I can get a feel for what they want in a future update.
13 ) Most of the EVO Geeks we have here are very aware of the HTC EVO Sprint Lovers ROM you have shared with us here. Do you consider this your most successful ROM ever?
I am very proud of my Sprint Lovers EVO ROM and I am glad that the word has spread to many of the members on the site. Without their help and support the ROM would not be what it is today.
14 ) Do your Android ROM's work on more than just the EVO?
Currently the Sprint Lovers EVO ROM is only designed to work on the EVO. When the time comes to get a new phone you can bet on a Sprint Lovers ROM for that phone as well.
The end
Geeks, that's the end of the spotlight with chris1683 and we hope you enjoyed that as much as we did. Have you used his ROM's before? If so, leave some comments and share your appreciation with him here. If you haven't tried one yet, it's almost a must. We are sure you Sprint lovers will love his Sprint Lovers ROM! Drop by his thread here and check out just how many other users are satisfied with the hard work put into this ROM. Leave your comments in the boxes below.