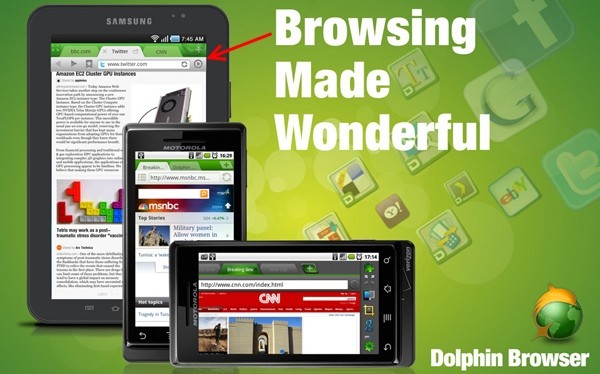 Dolphin Browser, one of the most popular browsers currently available on the Android Market, has recently announced at its MWC booth of their expansion of the browser into even more devices of the Android OS.
Originally a Android 1.6 Browser, they quickly released Dolphin Browser HD for the 2.x series of Android Devices with larger screens and have collected millions of downloads since they first released their browser. The browser is a popular choice due to its intuitive design, availability of plugins and apps, and also its constant support and updates from the developer.
With the announcement of Dolphin Browser Mini, and now their Tablet edition, Dolphin Browser will officially cover every capable Android Device on the market, making it universally compatible.
Check back on PPCGeeks for the latest news and more as The MWC rolls on!
Source: http://downloadsquad.switched.com/2011/02/14/dolphin-browser-for-android-tablets-enters-private-beta/