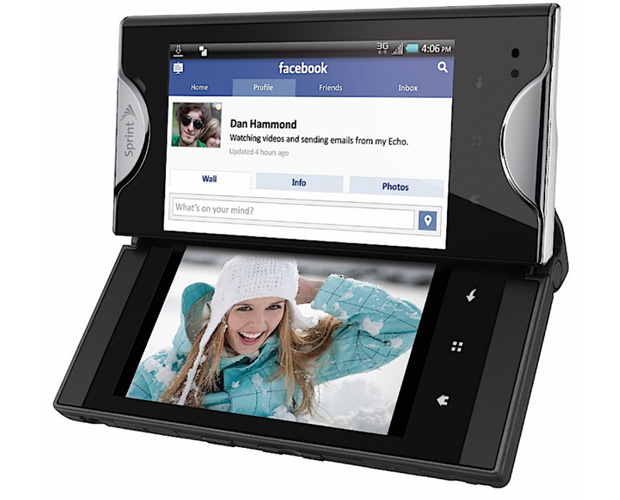 I know we're a little behind the ball on this one since it was announced on Monday, but better late than never right? The Kyocera Echo is the first dual-touchscreen Android phone on the Market. This phone will be available in Spring 2011 and will run Android 2.2 (Froyo) with a 1GHz Snapdragon processor. Why no Gingerbread though? It has two 3.5″ WVGA screens. Its 4.53″ long, 2.23″ wide, and 0.68″ thick. There's also no front-facing camera, only a rear-facing 5MP camera. It will also come with an 8Gb microSD card, expandable up to 32Gb.
Depending on that hinge's angle, those screens can perform multiple functions. Slide one over the other, the Echo looks and feels like a somewhat thicker single-screen smartphone. Slid flat and side-by-side, the smartphone offers a 4.7-inch screen (broken by the hinge) for displaying movies and other media (each screen offers 800×480 resolution). One screen tilted at an angle to the other allows for typing on a virtual keyboard, on one screen, while viewing, say, e-mail or Facebook on the other.
It appears that the price point will be $199 on a two-year contract after a $100 mail-in rebate.
There's quite a few new designs hitting the market soon, which one will come out on top? Would you prefer this dual-screen phone, or the Webtop dock for the Motorola Atrix 4G coming to At&t?