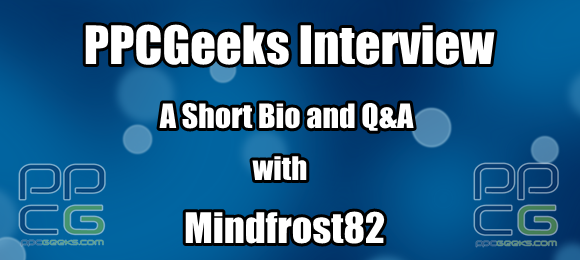 Geeks, here is a long time awaited spotlight. It was truly my pleasure in doing this as I look up to MindFrost82 (aka Frosty) when I need a good laugh or friend. You may have seen him around the site, he is truly a man behind the scenes. I recommend if you do not know him; GET TO KNOW HIM! Naw just kidding, he is a pal and a friend to most people here on the site. Please enjoy the PPCGeeks Spotlight of MindFrost82.
Quick Bio of MindFrost82:
My real life name is Robert Russell. I'm 29 years old and I live in Illinois, in the Chicago area. I was married for a little over 5 years and I'm currently going through a divorce. I have a 3 1/2 year old son named Bryan. I moved to IL about 8 1/2 years ago to be with the person I thought I was supposed to be with. I moved from the DFW area in TX, and one day (hopefully soon) hope to be back there (if anyone knows of any IT-related jobs like help desk, etc in that area, let me know lol). I graduated in 2008 with a Bachelor's degree in Computer Information Systems.
What brought you to PPCGeeks?
Way back when I had the Sprint Palm Treo 700wx I joined here. I wasn't very active at first because there were some other Treo forums that had more activity. Once I got the Vogue, I was here all the time, flashing ROMs, testing stuff for OMJ and JakDillard.
This was back in early 2008 and this site was growing fast and we outgrew our original server. I had experience with vBulletin and running a site, so I offered my services to Mike (Wideawake) and have been an Admin here ever since.
What is it like being administrator of the system of PPCGeeks?
It has its ups and downs like every other job. Some times there's high drama and then there are times with everything is calm. I love troubleshooting problems and I feel accomplished when I fix things, so I love that about this job. I'm always wanting to tweak things and make the user experience better. I have made quite a few friends on here too.
How many issues do we have per month?
Honestly, over the past year, server issues have been few and far between. It took a while to tweak everything to get to this point, but the server has been running smooth. The only issues we've had lately have been with some scripts that consume lots of resources before I catch them, but that has been minimal. I think we still have quite a bit of room to grow on this server too, even though its about 3 years old now and you can buy desktop PCs with better specs than our main server.
What is your favorite phone – and why?
My favorite phone has probably been the Google Nexus One. I actually just got another one because I sold my original one thinking I was going to switch carriers. While comparing it to all of my previous phones, it had the most development behind it (and still does), and everything just worked. Its a great size (3.7″ AMOLED screen) for me. 4″ screen are probably my max. The 4.3″ ones seem too big for me, but I also don't surf the internet much from my phone.
How many phones have you had – and in what order and with what carrier?
Wow, I actually had to try to list these and count them. I'll only do my smartphones though because I have no idea how many "feature" phones I had and what the models were.
For At&t I had the Fuze (Touch Pro), Nokia E71x, Google Nexus One, Samsung Captivate, and HTC Surround. I still have At&t and I actually still have all of those phones, but I'll just be using my Surround and N1 until something better comes out (maybe the Moto Atrix?!?)
For Sprint, I've had the Palm Treo 700wx, HTC Vogue, HTC Diamond, HTC Touch Pro 2, Blackberry Tour, and the HTC Evo.
I think that's all of them!
Are you happier with Windows Mobile/Phone or Android?
This is actually a tough question for me because I like features of both. In the end, I think I actually like Windows Phone 7 better than Android, but I really miss some apps from Android. Apps will usually come in time though since WP7 has only been in the US for a few months. WP7 is definitely more of a consumer phone right now and you can't be very productive with it like I could be with Windows Mobile or Android. Games are great on it, but its also a pretty simple OS, which might appeal to quite a few people out there.
How many servers does PPCGeeks have to handle our users?
PPCGeeks.com itself actually only runs on 1 server. We have a shared host that runs our ad server. We also have a 2nd server which runs our newly acquired shipped-roms.com site.
Do you have daily tasks for PPCG?
Not necessarily daily, but I have weekly and monthly tasks, such as backups. I'm on the site almost daily anyway, usually browsing the forums, checking the news, helping out other staff members, etc.
Outside of work (PPCG) what do you do for fun?
Lately I've just been playing Call Of Duty Black Ops on XBox. I'm going through a divorce right now, and going from having a family with a hyper 3 year old to being a bachelor is quite a change. I'm also trying to get back into a workout routine like P90X or Insanity, but I just need to get that motivation to do it every day.
Like any other phone geek, I also mess with my phones. I'll flash ROMs, try to fix things that are broken, etc.
How is it best communicated their are server issues? (assuming there are server issues)
-Best way to notify you?
If there is planned downtime, I usually post an announcement thread here in the forums giving the time and about how long we might be down for. If its unexpected, then depending on the problem, I might put up a basic HTML file saying that we're down, then I'll post something to our Twitter account and Facebook page.
The staff is usually quick at notifying me if we go down unexpectedly since someone is usually on here 24/7. Otherwise people can find me on Facebook or IM on almost every IM client at mindfrost82.
Do we run back-ups of the system? How often?
Of course! We run a backup usually once a week. We do a MySQL dump of the database and TAR the website files and do an incremental backup of those every week.
Does PPCG sell or give our usernames to other sites?
Never! We take our users' privacy serious. For those of you that have been members here for a long time, I think you can vouch that we don't even send out emails or newsletters. The only emails that come from this site are the ones you sign up for when you create your account or subscribe to threads, and all of those are just notifications (like Private Messages, etc).
Do you like what you do for PPCG's or do you wish it was more fun?
Of course I like it, otherwise I wouldn't still be here! I like working with our staff, well, most of you lol.
The only thing I wish we could have happen is that PPCG Meet Up like people have talked about for years. I've met Mike and Courtney, but I haven't met anyone else from here yet. I have plans to meet a couple of you though.
What other responsibilities do you have for PPCG's and what do they consist of? Mod, News, Tester, etc.
I usually don't mod unless I just happen to come across something while I'm browsing the site. I've written news in the past, but now that we're starting to get a good news team in place, I haven't had to do that as often. I've gotten accessories to review in the past, and have managed a few giveaways of those items, that's always fun!
That's all folks! I hope you have enjoyed reading another version of the PPCGeeks spotlight. I know I certainly have! It made me realize how much we really appreciate our staff, especially Admins here at PPCGeeks. Thank you frosty for giving us this interview, and to the fellow geeks around here on PPCGeeks, remember to say thanks for all the hard work that comes from the PPCGeeks team, moderators, writers and all.
And btw, Happy Birthday Mindfrost!!!