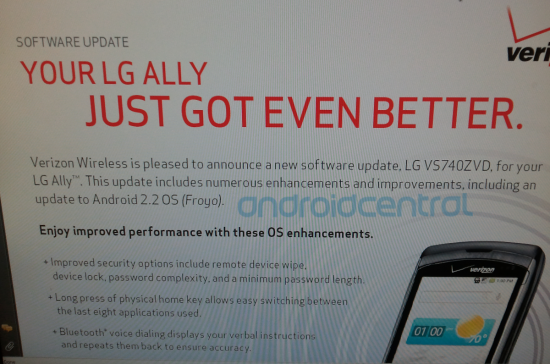 Are you an owner of the LG Ally or know several friends with one? I sure do and know they will love it when they get this update! The update (VS740ZVD) will bring the device several improvements, with only a few that have been announced. Who knows, there could be many more updates or just the ones you see. Either way, it's a great sign for the owners of this device and gives them a reason to love their Ally even more.
Here are what some of the updates will be:
Improved security options such as remote device wipe and more
Long press of home key allows easy switching between the last eight applications you used
Bluetooth voice dialing improvements
Were all sure there will be more updates than this so hang tight and when it's available we will be sure to let you all know! For now you can discuss in the comment section below or hop into our LG Ally section and discuss this topic already started there.
Source: AndroidCentral