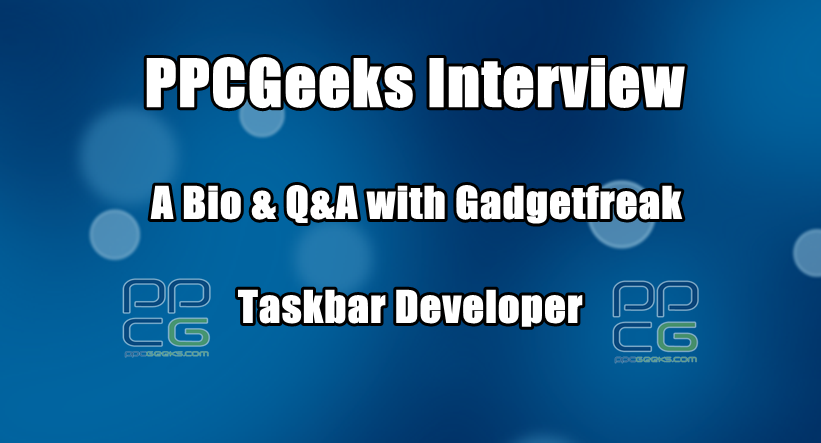 Welcome to another edition of the PPCGeek Spotlight where we get enlightening perspectives and great insight from well known and successful community members and leaders. In this edition we highlight a very widely known, well respected and talented taskbar creator and super moderator here at PPCGeeks.com, Gadgetfreak.
Gadgetfreak has been a member of our site for a very long time. He has gone from a regular forum lurker, to VIP and to super moderator where he found his home a long time ago. He is very popular here at PPCGeeks, mostly known for helping others, giving great advice and tips and the greatest of all, making taskbars. Take a few minutes to learn more about Gadgetfreak and his taskbar development.
Here's a short bio with Gadgetfreak followed by a Q&A:
1 ) What brought you to the site?
Back in late 2007, I purchased my first WM phone, the Sprint Touch 6900, ditching my T-Mobile RAZR (What do you mean I can't get signal in this building??? I'm only 10 feet from the door???). At the time I was looking for some information on how to take full advantage of the phone. I lurked for a while and then became a member in January, 2008. Once here, I learned two very important things: First, that there were things called custom ROMs, and second, you could mod your phone if you knew what you were doing. I was hooked…
2 ) What background experience did you have that got you to where you are today?
Mostly curiosity and a willingness to learn who to do it myself. I taught myself how to build and customize PCs. More than anything, that taught me the value of really digging in and finding out the why, not just the how things work.
3 ) What is your background in graphic arts?
LOL! Well, I guess you could say 3 semesters of architecture courses back in college, but beyond that, nothing formal. I worked on restoring some family photos that were pretty scratched up and damaged in PhotoShop years ago, but, honestly, most of what I've done here at PPCGeeks has been a learn as you go experience for me.
4 ) Is there anyone here that has helped you along the way? We know Tsowen and yourself have worked together when it comes to taskbars.
Tsowen has always been a huge help, we worked together as a team for a number of projects. Prior to us getting together though, I owe a lot to Lylej2k, he was the first to port one of the early VGA taskbar sets over to QVGA. Once the door was cracked open, that led to me getting help from HTCLeener, Brock1909, IgotGame, nelly04, and misfortune. All of us were working the QVGA side of the aisle while Tsowen was the big guy in CDMA VGA work. darren.wlsn1, Riley05, MightyMike, Mr. X and many, many more helped me test and tweak and tighten up the various taskbars as well.
5 ) Do you have to know about ROM development to create a taskbar or is it all graphic work?
It's mostly graphic work. ROM development doesn't mean much for these except to make it easier to grab the various DLL files that the icons are stored in. I can't even tell you how many dll files we pulled from the stock ROMs for our phones looking for some of the more elusive files. The biggest isses was that once you found the right icons inside the DLLs, you had to replace them one-by-one, so patience was a must. It could get pretty tedious. And it never worked quite right the first time either when you loaded them up and tested the files…

6 ) Do you have to know a lot about Photoshop or are there other programs you can use to make taskbars?
I personally don't use Photoshop. I'm cheap (Wife & 2 kids…), so I have always used GIMP. I've found that it can do darn near everything that PS can do and It's hard to beat the price: $0.00. If you are willing to do a little research and some searching, you can generally find software free or at a low cost that will do all the various things you would need to build a taskbar, set like batch converters, etc.

7 ) How hard is it to transition from WM to Android taskbar making?
Personally, I think it's easier. If you have a good archieve program like 7-zip, you can easily get into the APK files and framework files to get to the icons, and since you don't have to load them one at a time into a DLL as in WM, it's faster too.
8 ) Have you considered continuing to make Windows Mobile taskbars as well as maybe even Windows Phone 7?
Given family commitments, and, unfortunately, needing to pay the bills, I've had to make the decision to move away from WM taskbar creation. I just don't have the time I used to, so I can only support the platform I am currently using, which at the moment is Android. WP7 would only be a consideration once I pick up a WP7 device. I do accept donations by the way… LOL.

9 ) How long does it take to make a good taskbar set?
Easily a month, sometimes more if the elements don't gel right away. One of the biggest flaws that some taskbars have is that the developer just threw together random icons that he or she thought would look cool on their phone and it get's kind of hard to figure out what you are looking for. A good TB will have a consistent style and theme all the way through.
10 ) Do different resolution devices have any effect on taskbars?
Oh yes. That was the biggest issue with the QVGA taskbar sets. The largest icon a QVGA device will display in WM on the task bar is 16 by 16. That makes it very difficult to get any kind of serious detail in the icon. VGA/WVGA WM phones used 32×32 icons and the difference in what you could see on the phone was amazing. Android uses 38×38 so the detail level will be a bit better than WM.
11 ) Have you ever considered making ROMs or just taskbars?
I have done some ROM work. I have a fairly popular ROM that is still up in the Touch Diamond forum and I did a lot of TP2 work but I never quite got to the point where I was happy enough with it to release it publicly, and plus too, that was when my free time started to evaporate, so I just did not feel like I could support it properly, either, so my one and only public ROM was my GadgetROM for the Diamond.
12 ) What are your plans currently for the next Android taskbar?
I've got a few things int he works. I've already been nosing around all of the various files that show up in the notifications area, so now that I have that, I've started planning out a theme.
13 ) How many Android taskbars have you currently come up with? Are there more than one?
Just one so far, but once I have my first one done, others will follow relatively quickly. And yes, that is a tease. 

14 ) Last but not least, do you get great feedback from the work you have done? Here on the site the users sure seem to appreciate you and the help and support you give back to them.
The users at our site are quite frankly, awesome. I have always been very fortunate to have been the recipient of some great feedback, assistance and advice whenever appropriate from a wide range of users, noobs to long term VIPers. It makes doing the things that I like to do in modding my own phone that much more enjoyable if even one person likes the work and can use it. One of the more interesting things about building taskbars and other system modifications, is that it is truly a global community. It still blows me away that people as far away as Australia and Singapore have used my taskbars. Getting feedback from those users is always a treat.
So there you have it geeks. This is the end of the Q&A with PPCGeeks member Gadgetfreak! We hope you enjoyed getting to know him as well as learning more about how he does his work. Please leave your comments and feedback in the comment box below. For now, keep your eyes open for our next PPCG spotlight where we will gain more insight from other well respected community members.