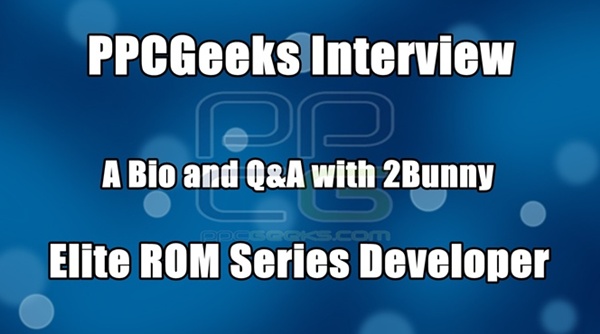 Welcome to another edition of the PPCG Spotlight, where we get enlightening perspectives and great insight from well known and well accomplished community members. In this edition, we highlight a very widely known member in the community, 2 Bunny.
2 Bunny has been cooking his Elite ROM series for some time with the help of materials made from others as well as himself. He's been on our site for almost a year and has been a great amount of help to our users. His devices are the HTC Diamond and Samsung Omnia. If you own a Diamond you probably are aware of 2Bunny from the diamond upgrades section.
Here's a Bio followed by a short Q&A.
For those that didn't already know, my name is 2 Bunny. I am fifteen years old (having a birthday soon) and live with my family. My first experience with any "smart" os device was back in the year 2006 or 2007 when someone gave me a Palm m500. It was broken but it looked so "cool" that it inspired me to buy a working one, and I ended up purchasing an IBM "Workpad" c500 (the same device, just rebranded), which was an enormous help to me.
Not only was it really handy as an "organizer", but it ran almost everything from the Palm OS library. The apps all came as a single .PRC that you would run instead of a CAB installer. Of course, the Palm OS was not a multimedia friendly platform at the time, so my media collection resided on an Onda vx878 (a really small QVGA media player which didn't do anything but music, photos, movies, FM Radio and Tetris) which I used while I had the Palm m500.
Some time later in the year 2008 I got an hp iPAQ h4150 and discovered Windows Mobile. The iPAQ had a QVGA Color screen (like the Onda), but also had WiFi, Bluetooth and a proper OS (that could do more than tetris). I ended up selling the c500 and later the Onda.
In mid 2009 I was offered a deal (great deal at the time) on a Samsung Omnia (a Verizon device, but I had no need for a mobile phone at this point) which ran Windows Mobile just like the iPAQ. I learned about the wonderful world of "custom ROMs" and tried flashing one. My first time through I failed. I freaked out because I thought the thing was "bricked". I later learned that every ROM you try to flash on that computer would never finish, (still have no idea why) but in my impatience I dragged it over to my ancient hp zt1250 laptop (circa 2001). I proceeded to flash the stock ROM, which slowly finished all the way through on my first try. The computer and device both said "Success" and I restarted it only to discover that I had killed it. The red light of death. From this there was no recovery other than to crack it open and reflash the bootloader by means of JTAG.
I ordered a USB to JTAG adapter, but never could get it to work with the bootloader repair software. At this time, there had been one fellow who had been nagging me back on the MoDaCo community forums to buy the machine. We talked in WLM for a long time and we eventually arrived at a conclusion: That he would fix my device and I would let him keep the (at that time still attached by solder) JTAG adapter and pay for shipping. I shoved it in a USPS $5 box and sent it off.
In just a few days it arrived at the person's house, and a few days after that it was repaired. Only now, the person was asking for way more than five dollars to ship the thing back. Every time I logged into WLM to hassle the person, it would be a new excuse. I honestly thought I would never get it back, but I kept trying nonetheless. Three weeks of nagging took its toll on the scam artist, and eventually the person broke down and sent it back if I would send the (originally agreed on) five dollars for return shipping after it arrived. To my surprise it arrived; working.
While it was gone, I had the opportunity to buy an HTC Diamond for 60 dollars. It wasn't in the greatest condition but it still worked well and I proceeded to purchase it. In many ways it was nicer than the Omnia: a screen nearly 3-4 times as large (in resolution), a few hardware keys and it had the Sprint logo stamped all over the front (which I would find useful later for using it on Boost Mobile). The Omnia had some strong points too, and they were all the places that the Diamond actually lacked: 8GB of internal Storage vs. 4 and a card slot. It was a small price to pay for a much nicer device that was compatible with the Boot Mobile network. I flashed a few ROMs to it to start out with, but I really enjoyed the "Pegasus" ROM (the old one) from Oliver. It was nice, but very bloated, and had very little free space.
Someone suggested I try a Caulkulin or an OMJ kitchen. They proved intimidating at first but I feel much more confident with them now. While my Elite ROM series isn't perfect it is pretty nice. Most Chefs are bailing out on the Diamond and Windows Mobile but I'm gonna stay with it for as long as possible. I wish the same of the people that download and use my Elite ROM Series.
Q&A
1) What persuaded you to find PPCG and begin the journey towards modifying handsets?
Before I found PPCGeeks I commonly surfed the MoDaCo community because they had a lot of Samsung Omnia stuff on there. After I switched to the Diamond I found that there was a whole lot more Diamond related "material" here on PPCGeeks, and thats where I have stayed pretty much ever since.
2) What's your process of building ROMS? Do you cook them yourself? Do you use other peoples help or background knowledge of your own?
I use the OMJ kitchen by starting with a "stock" working erv file which I just build "as is" and flash to the device. Next, I use it and see what could use some work and make a note of it before going back to the kitchen and tweaking it a little more. If I get stumped and something didn't turn out quite right, I usually post in the corresponding thread for the kitchen. Usually, the more experienced chefs are familiar with the problem or know what might be causing it and they can provide some pretty helpful hints.
3) What experience do you have with Kitchens? Have you created your own or do you use a certain one?
The Caulkulin and OMJ are about as far as my admittedly limited kitchen experience goes. They have a fair balance between ease of use and advanced options for me without being too simple or too overwhelming.
5) Do you consider cooking Android ROMs or have you already done that?
Not really. If memory serves me correctly, I don't even know if they can even make a true Android ROM for the Diamond (I think they have to boot to WM first, then use "Haret" to launch Android from there – don't quote me on that though).
6) What are your thoughts on the difference between WM6.1 and WM6.5?
I tried WM6.5 twice. Some people think its cool but I think its just a waste of screen real estate (not to mention the retarded "Start Menu"). It eats battery, its laggy and feels even more like wading through concrete than WM6.1 (which is probably why I only cook for WM6.1).
7) If/when we are able to "jailbreak" Windows Phone 7 devices, are you going to get into the WP7 cooking scene or stick with WM?
Nope. WP7 looks cool but its a whole different OS, not just an "upgrade" to WM6 like the name implies. WP7 (from my perspective) was MS's way of flushing ten years of real Windows Mobile down the toilet. All our applications, manila, customization, hours of work and everything is now obsolete and worthless. WM had been showing signs of age but it was still so darn customizable and "future proof" (to some extent). If I upgrade in the future, it will be in the Android direction – a platform that has rapidly grown to fill the void that the receding Windows Mobile left.
8 ) What are your thoughts of Apple iProducts and have you ever had even a tiny itch to check out the iPhone?
I've seen them before. They were just never that attractive to me because it looks like it locks you in a box that is even smaller than that of a WP7 device. We do own one apple product in our home though and that is a second generation, 10GB Apple iPod (the real kind – with the hard drive). We don't really use it but it does have "Pong" on it.
9) As a PPCG Diamond ROM developer, what is your view on the community and the difference between the amount of WM users vs. Android users?
Since Microsoft pulled the plug on the real Windows Mobile any Windows Mobile communities that are left will soon dissolve, since there won't be any new hardware with WM on it, but there will with Android (I have tried the Samsung Epic hands on, and it looks quite nice). Basically, there are a few loyal members "holding down the Windows Mobile fort" (and I hope to stay in that category as long as possible to serve those people who still use the Diamond), but it'll soon become just a nostalgia group after another generation of hardware lacking Windows Mobile comes to pass. It was fun while it lasted.
10) How much work does it require to build a good ROM and update it with new features?
Sometimes it takes some time. Its not even necessarily the actual cooking but the schedule conflicts (these delayed the latest release of "Elite" for weeks). Getting working versions of Manila, FlipIt, etc. can be a challenge too. Feedback from the community helps you find out what was good and bad about the ROM, and what people may want added extra. After all the "kinks" are worked out of the ROM, I like to make a little .DOC file (if you've used my ROMs before, you're very familiar with these ) to outline different goodies in the ROM, showcase screenshots, how to fix bugs etc. because I don't like taking up the first five posts of my thread with ROM info.
So there you have it. This is the end of the Q&A with PPCGeeks member 2Bunny! We hope you enjoyed getting to know him as well as learning more about how he does his work.  Stay tuned for our next PPCG spotlight where we will gain more insight from other well respected community members.