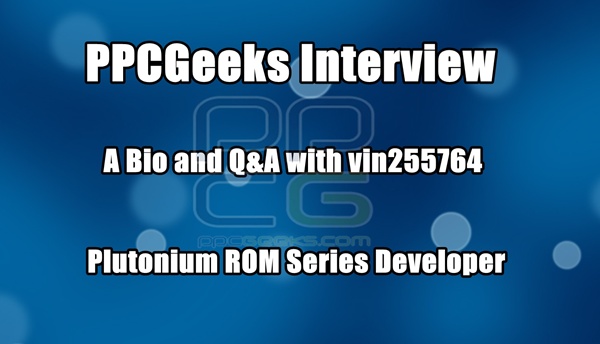 Welcome to the second edition of the PPCGeek Spotlight where we get enlightening perspectives and great insight from well known and well accomplished community members. In this edition, we highlight a very widely known ROM chef in the community, Vin255764. Below I had great pleasure of asking our friend and community chef the questions. I learned a lot from him and hope you all enjoy this as much as I did!
Here is a short bio of Vin255764:
"On December 13-th I will be 32 years old, born and grow up in Russia. Finished tech university and received my master degree in mechanical engineering. Two weeks later I came to USA to get professional experience. Life full of surprises. I met a woman and got married. It's like in the song "I Like the Way You Move".  We met in Seattle's night club and she moved better than me.  I just couldn't stand it lol."

1.) What platform do you develop for?
–Windows Mobile. My fave is 6.5.X. Build 23569 is rock solid, I'm sad that this branch stopped developing..maybe because there is nothing left to fix. Latest 6.5.X leaks stable too, only not compatible with our Touch Pro 2 dialer. Cooks know work around this issue.
2.) What will you do with Windows Phone 7 coming out?
-Nothing
3.) Have you looked at switching to Android, or another phone OS?
-I'm planning to jump into Android development and may be work for HTC.  But before I do that I have to read, read and read .
4.) What is the biggest struggle you have when building a rom?
-The hardest part was to get fully functional ##codes on WM 6.5.X. Especially Reverse Logistics support in generic ROM. Start menu organizing and making full set of start menu icons. Once its done, ROM cooking is quick and easy.
5.) What is/was the biggest challenge for building roms on your chosen platform?
-The biggest challenge was to cook Russian language ROM.  It's extremely hard to cook non-English ROMs. I think it's much easier just to learn the English lol
6.) How many hours does it take to build a rom from start to finish?
-Tough question. To build a perfect ROM takes few months even with this great support of ppcgeeks community. I'm using PPCK (PPCKitchen.org). As of today it takes about 2 hours to clean up the sys and cook nice and sweet ROM.
7.) What brought you to PPCGeeks.com?
-My first device was HTC Vogue.  When I opened the box, my first impressions was: What's up with all that green and yellow theme? How to customize the cube?  How come HTC Opal has Manila2d and I don't? My best friend recommended this website and once I signed up, I'm all about PPCGeeks.com
8.) Who helped you learn how to develop ROMs? Did you do it all alone?
-Yes, I did it all alone. I started from Rstoyguy tutorials, Ali3nfreak taught me porting XIPs. Of course it's not a Sinclair Basic, but the idea is the same.
9.) Why don't you want to venture out into WP7?
-Android market growing up 100s of times faster than win mo. Android is simple open source platform and capable with many devices. I think Windows is great for desktop PC.  But in pocket world it is not…
10.) Do you ever make roms in Russian, or make language packs for your roms?
-All great tools developed in English, programming commands is in English. I saw this thread and decided to cook something up plus I always wanted to see how it looks like, and I can tell it looks little funny. Whoever worked on SYS translation has never been in Russia. Hard to explain, but I can try .For example if I rename "File Explorer" to "Guide", or "Remote Desktop Mobile" to "Far Away From Work Table" . Of course everything can be corrected and I think its very possible to create multi-language switch for Win Mo, but for me easier to use English ROM.
11.) Do you like how Sense is moving in the Windows Mobile Environment?
-Oh,yes Sense moving in the right direction.Cookie home tab is fantastic addon. I played with HD2, CHT and Chainfire d3d drivers installed, no slowing downs, run around 34% in-use RAM. I'd love to see CDMA HD2,but thats not gonna happen. Switching carrier is not in option. Sprint left me no choice, eventually I'll have to move to Droid wagon.
12. ) What is a XIP an is it needed to Cook a Rom?
-XIP simply equals a kernel. Knowledge of this part is not neccessary to cook custom ROM. People used to do this manually, but today this process is automated in the kitchen. I can only imagine their painfull hexcalculations lol. There was a period when everybody moved to TP and Diamonds, and I had to learn a little bit to keep my HTC Vogue up to date. When new sys comes out, I had to use TP_XIP.BINs as a donors (when somebody share it in TP upgrades). Joojoobee666 donor bins worked perfect, so right now Im using his files, no need to look for something better.
I hope you have enjoyed reading this version of the spotlight! I know I certainly have. It has shown me a great appreciation for our developers here at PPCGeeks, who we have sometimes taken for granted. I know that when I use a custom Rom now – that  I for one will always thank them.  It seems to be an incredible process to get a rom ready to distribute. Thank you Vin255764 for giving my this interview, and to the fellow geeks around here on PPCGeeks, remember your chef when you flash, a thanks is never enough but it is a start!