PPCGEEKS REVIEW – INTRODUCING THE ROVER PUCK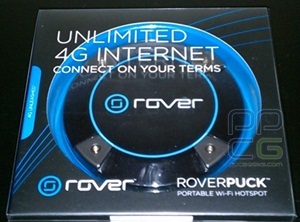 Thanks to our friends at Rover, I have had the privilege to review the Rover puck, which is a portable 4g wi-fi hotspot device. I must say this is one impressive puck and did I mention it is the size of a hockey puck, maybe even smaller? For specifications on the puck, see our previous review by clicking here.
THE COOL STUFF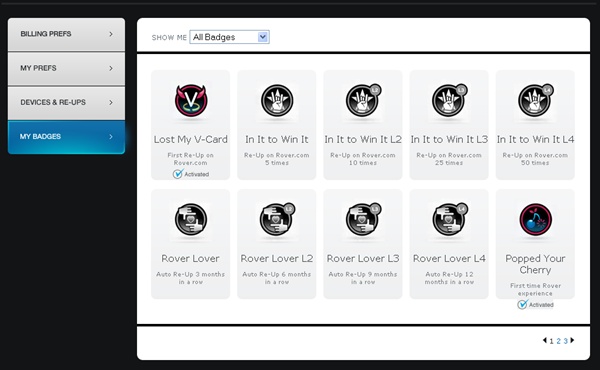 Do you know what that image is showing? Those are badges, similar to foursquare. Isn't that exciting? The more you use the Rover, the more awesome badges you earn. Keep in mind, Rover may even throw in a few other rewards if you're lucky!
Other cool things that come with your Rover account once you are singed up online include: your very own profile, access to referring friends (unlock badges for doing so), visible account history, visible device history, adding more funds to your account, viewing badges, checking usage and more.
WHAT YOU GET
When purchasing the Rover puck, it comes with a data cable and two charging adapters; one for the car and one for the home. That's always a plus when I'm buying a phone or blue-tooth headset and definitely scores bonus points from me for being included in this package. I've taken a picture to show you the goodies mentioned.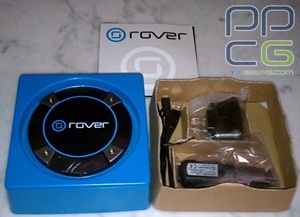 A CLOSER LOOK
The Rover puck is not only small but also very light weight and couldn't be any easier to manage. As long as you can follow instructions you do not have to be an expert to use this puck. To show you just how small the puck is I've taken a few shots and will share those below.
Exact measurements:
Height: 4.25 inches
Depth: 1 centimeter
Weight: 1.6 pounds
Width: Same as height; it's a circle
HOW TO OPERATE THE PUCK
For powering the device, that button is located at the top left corner, on the edge of the puck. There is also a signal button located a the top right corner, on the edge of the puck which you can press to reach out for more signal. There are lights on the front showing battery and 4G signal strength. For charging, there's a Micro USB jack on the front. Once you power on your device, go to your internet connections, browse and you will find the Rover puck listed in your available networks. Use your password provided on the back of the puck and get started browsing the web.
PRICING AND PLANS
For a one time fee of $149.99 you can own your very own Rover puck and have access to unlimited 4G internet. Keep in mind, you have to have 4g signal in your area. The plans available include: $5.00 a day, $20.00 a week or $50.00 a month. When you consider the fact that you can add up to 8 devices on this one puck and all have 4G access, that price is WELL worth it in my opinion. For a more detailed pricing description please click here.
PUSH IT TO THE LIMIT – OR CAN YOU?
Now for the fun part! Once I got this device I was so excited to have it. If you can't tell by me sharing all the pictures I've taken. Of course the first thing I did was put it to the test. I'm not talking small test's on one device either. I'm talking hardcore testing such as downloading large files like World of Warcraft, playing the game to see how smooth the connection goes, connecting more than one computer and cell phone while downloading large files and more. Oh yes, this puck is being put through the test!
SPEED TEST SCENARIO #1
The first test I did when I got the rover was just a basic speed test with nothing being downloaded to my computer. I simply connected my laptop and went straight for a speed test. The results were incredible!!
Test from home – device in separate room while inside a three story apartment, second floor.


Test while at work – Device was in the open while inside a one story building.


This just proves that location actually does matter! While inside my apartment I was getting great signal but when taken outside of a 3 story building and put in a single story building, you can see from the results that the bandwidth significantly increased. Good to know!
SPEED TEST SCENARIO #2
The second set of tests I did were while downloading a large file; Ubuntu which is 693MB. I only connected one laptop while downloading the file. Speed tests are very random while downloading files so I chose to share the transfer rates. Keep reading!
Results while at home – only one computer connected while downloading Ubuntu.
File size – 693 MB / Transfer Rate – Highest: 987 kbps / Lowest: 400 kbps / Time – about 45 minutes
Results while at work – only one computer connected while downloading Ubuntu.
File size – 693 MB / Transfer Rate – Highest: 2.8 mbps / Lowest: 1.2 mbps / Time – about 20 minutes
SPEED TEST SCENARIO #3
The third set of tests I did were similar to the above tests but this time I added one more devices. This time I'm testing with two computers connected and a cellphone. What I did with the cellphone was downloading 5 games at the same time the download of Ubuntu was downloading on each of the two computers connected. Yes, I keep pausing the download, connecting different devices and continuing my tests.
Results while at home – two computers connected while downloading Ubuntu on both and one cellphone connected that is downloading 5 games at once.
File size – 693 MB / Transfer Rate – Highest: 600 kbps / Lowest: 200 kbps / Time – about an hour
Results while at work – two computers connected while downloading Ubuntu on both and one cellphone connected that is downloading 5 games at once.
File size – 693 MB / Transfer Rate – Highest: 1.9 mbps / Lowest: 886 kbps / Time – about 40 minutes
MY CONCLUSION
In all the testing that I have done I can say one thing for sure is that no matter where, when or what you are downloading the results you get will be phenomenal as long as you have 4G coverage. Several friends have asked me how was browsing around the web during those downloads? My answer is fantastic! I had no problems loading other pages while doing these tests. I even played a few online games such as Americas Army and never saw a glitch once.
THE ROVER PUCK IS FOR YOU
Do you find yourself in need or desperately wanting a high speed wi-fi hotspot for more than one device at times? With the Rover puck you will no longer have to track down a wi-fi hotspot.
Do you own a business and want to save money supporting up to eight devices who would all have 4G data access for one low rate per month? This is the device for you!
If you have questions, see Rovers FAQ page by clicking here.