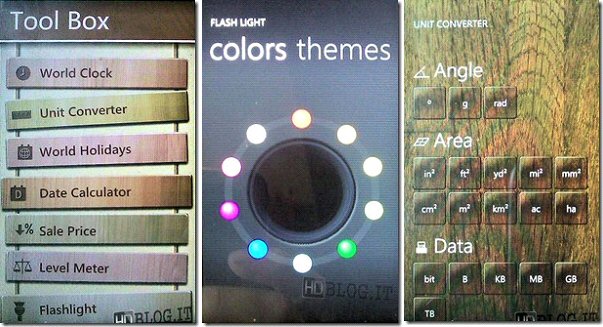 Not to be the only company not to have a application hub, LG announces their LG Toolbox. This is much like the HTC hub, that we have seen floating around; LG Toolbox, consists of a number of useful utilities, including:
World Clock which shows the time in a number of European cities, with the user able to add other cities.
Unit Converter offers the possibility to convert different units of measure such as angles, areas, data for the  computer, energy, weight, length, mass, velocity, etc. ..
World Holidays lets you know what are the holidays of every country and is especially useful for travellers.
Date Calculator shows us how many days to a specific date and calculate a number of days into the future.
Sale Price allows us to calculate the price of a product based on the discount rates e.g 15% off.
Level Meter is a complete level, well done and quite accurate, which offers a choice between two different visions.
Flashlite is the now classic torch, a must in all smartphones. It allows light to be shed using the brightness of the  screen with a choice of different colors and also to enable or disable the strobe vision.
Random Number finally, with a nice animated graphics, allows us to extract a random number within a range set by  us.
Read more and see screenshots of all the apps at HDBlog.it here.
Source: wmpoweruser.com
How do you think this will stack up against the HTC hub that is in works, and do you think that it will be a favorable application to own an LG device compared to another device? How do these features rate with you, what would be a must have application for you and your windows phone 7 experience?
Also if you would like to know how to develop your own applications look no further than here.