You've been hearing about the CEATEC 2010 event that took place in Japan consisting of several prototypes:  robots, cameras, TVs, tablets, cellphones and many more advanced technologies. This is Asia's largest technology and electronics exhibition held each year.  PPCGeeks member gTen has spotted an interesting article at Engadget.com along with other articles we have found around the internet and we'd like to share with everyone here.
WiMAX 2 Mobile Broadband – 330Mbps
The first interesting article from this huge exhibition that we are going to share is what gTen is so excited about. We quote gTen saying  "If sprint can roll this out and have Epic 4g and Evo 4g run at 300mbps we will all be in heaven…"  Take a look for yourself and see just what comes to mind when you learn more about WIMAX2 mobile broadband (link here).
Fujitsu dual-touchscreen phone like Nintendo DS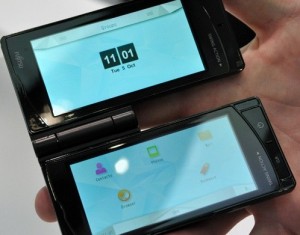 Although it's not a device found in the US, this is a very nice piece of technology. Also found at Engadget (link here) and shown at the CEATEC convention, the Fujitsu dual-touchscreen phone is almost ready for production. It seems that TAT (The Astonishing Tribe), a Swedish mobile UI design company, has teamed up with Fujitsu and created a spectacular, dual-touchscreen phone that will be very popular in the Japanese market.  One cool feature is the 960 x 480 resolution displays that are side-by-side and will swivel for multiple formatting options. Watch the video found at Engadget to see this device in action.
Sharp's Galapagos Android Tablets
Also spotted at the CEATEC convention and articles found at CrunchGear.com (link here) were Sharp's, as we know it, Galapagos hybrid tablets which also happened to be one of the biggest attractions of the whole exhibition. As far as we know the readers will be available in a 5.5″ as well as a 10.8″ size. December is when Japanese buyers will be able to purchase either tablet but no word yet on international availability.
Sources: Engadget & CrunchGear.com