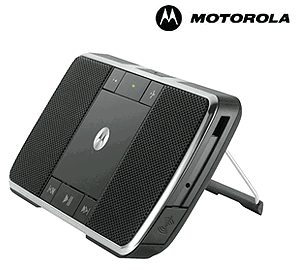 I had the opportunity to test out the Motorola EQ5 Bluetooth Stereo Speakers, which comes from their MOTOROKR line. Most people are probably thinking, why get bluetooth stereo speakers when our phones have a built-in speakerphone? You're probably right, but I put this product to the test to see if it was worth the money. I tested this with my Samsung Captivate (Galaxy S) Android smartphone.
The first thing I noticed what its size and color scheme. Its about the same size as my Captivate, only a little thicker. It had a sleek black and chrome/silver color scheme with easy button controls on the front between the speakers. It also has a kickstand around back.
For hands-free operation, it features noise-reduction and echo-cancellation, which seemed to work pretty well. Calls were clear and easy to hear and callers didn't have any complaints about hearing me either.
Now for the real test though, music. One of its features is SRS WOW HD™ enhanced stereo performance, but unfortunately, I didn't find it very "enhanced". When using A2DP, the music sounded very tinny and not very clear. It also states that it features bass ports for improved bass, but I didn't really hear any bass. When using the supplied 3.5mm cable, the sound was much better, but still not like a small stereo. The volume was decent, but it could have been louder. You have your phone's volume control, then a built-in control within the unit. There still wasn't much bass.
Overall, if you're going to use it for A2DP bluetooth, I would just stick with the built-in speakerphone in your phone. If you want louder music and are willing to use the supplied cable, then this product works well for that. I'm not sure its worth the $99 price tag though.
You can read more about it and purchase it from the PPCGeeks Store here: http://store.ppcgeeks.com/productaccessories.asp?id=20486&n=Motorola-EQ5-Wireless-Travel-Stereo-Speaker