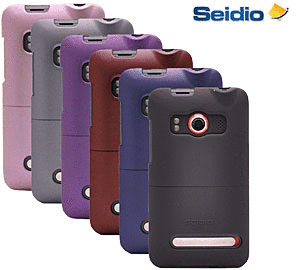 If you frequently visit this site, then I'm sure you've heard of Seidio by now. They make tons of accessories for our favorite smartphones, ranging from extended batteries to cases. Today I got the opportunity to review the Seidio Innocase II Surface for the Sprint HTC Evo 4G.
I previously had the Body Glove case, which can be purchased at a Sprint store. They each have their own unique style and design, and they both have their own pros and cons. We'll mainly be focusing on the Innocase today though.
First of all, it has Seidio's common 2 part design, the top and bottom. You slide one part on the top of the phone and the other over the bottom, then they snap together. They do stay together and haven't come apart on me yet. It offers good protection around the edges and back of the phone, but nothing for the screen. Most cases for touchscreen devices don't offer protection for the screen anyway, but some do come with a screen protector.
It offers a better grip than the phone by itself by having a soft coating while still offering protection.
It doesn't really get in the way of any buttons, but it does make the power button a little difficult to press since the case is close to it. It also doesn't block any ports or sensors.
For about $25, its not a bad case at all and offers about the same amount of protection as most other cases in its class. For those needing more protection, there are other cases out there, but they usually add more bulk. This is great for those that don't want to add more bulk but want to add some protection.
There's been some reports of people getting scratched Evo's with this case, but Seidio redesigned the case to prevent this from happening. If you have one of the original cases, its recommended that you contact them for a replacement. Since I only had this case for a couple of days, I didn't notice any scratching with mine and it had a tight fit, so I believe its the newer design. The inside is made of the same material as the outside and there's a felt padding in the middle of both pieces.
If you don't already have a case or have one you're not satisfied with, I would highly recommend giving this one a try.
Find it at the PPCG store today!


http://store.ppcgeeks.com/productaccessories.asp?id=64168&n=Seidio-Innocase-II-Surface