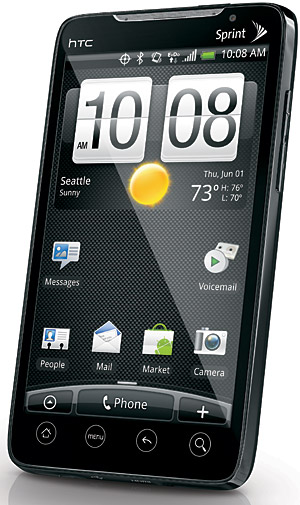 We're a little late on this story, but better late than never right? Our Evo forums are all a buzz about the news that Froyo (Android 2.2) is officially coming to the Evo starting next week, as early as Tuesday 8/3. There are reports saying that it will be a gradual rollout, with all phones receiving the update by the middle of August.
If you don't want to wait for the official OTA to download, you can go into your settings and select System Updates > HTC Software Update. There are also rumors saying that this method could start working as early as Sunday, August 1st.
The Google Nexus One is the only other phone to officially sport Froyo, so this is good news for Evo owners considering their phones also run the SenseUI. Froyo features include faster performance (thanks to a JIT compiler in the kernel), voice dialing over bluetooth, a faster browser with full Flash support, and the ability to install apps to the SD card. The Market will also offer automatic updates for your installed apps, which is an individual setting for each app.
Froyo also features a built-in WiFi Hotspot feature to allow wireless tethering. There's no word on how Sprint will handle this considering they charge extra for their Hotspot app. It could be disabled by Sprint/HTC, or they might allow it. Time will tell on that one.
If you're rooted and/or using a custom ROM, you should still be able to get the update, but it WILL break root, at least until a new method is found.
Those of you that are rooted or using a custom ROM, will you still install the official update?
Those of you that try to do a manual download/install, please report back once you start having success and report on its performance!
Source: PCMag